These are some of the books I look forward to most in 2016 and think people should look into because they are pretty freaking awesome-sounding.
This post however, is made for starters, first, not continuations, so like no Throne of Glass 5 or Mirror King or Glass Sword, Lady Midnight (I consider it a continuation of The Shadowhunter Chronicles, though it is the first of a new trilogy).
So let's begin:
I will start off with the ones that I bring up most on this blog:
TRUTHWITCH by Susan Dennard: due out January, 5th 2016, according to Goodreads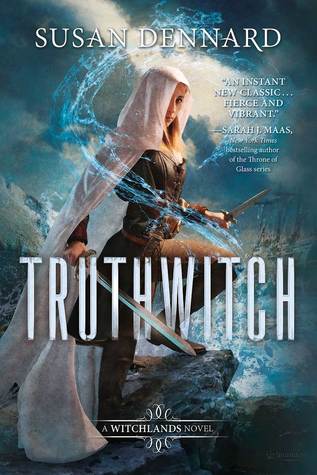 I have been excited for Truthwitch forever, I have entered for the Street Team, entered for Giveaways and am STILL praying I get an ARC, even those I will by a shiny, final copy when it comes out. I am also still hoping that The ARC Phantom gets an ARC of this, since they got an ARC of Strange and Ever After.
But this story follows Safiya and Iseult, a Truthwitch and a Threadwitch, who from what I can tell get into a shit ton of trouble, hook up (not like that…. Okay maybe like that?) with Merik and Aeduan, who everyone calls Baeduan (a way to pronounce his name, and how we all feel about him), to fight emperors, princes, and mercenaries, who all want Safi because her skills are hella rare.
There is a better description somewhere and I am not doing it CLOSE to justice, but I have countless (about 5) posts on this book, that you can go look up, or just freaking Google it.
Either way keep your eyes peeled for Truthwitch 😉
The Crown's Game by Evelyn Skye
*NO COVER*
The date is not final, though possibly summer of 2016.
THIS BOOK is another I have raved and raved about, and it takes place in an alternate Russia, though I am not sure the exact dates, but it is around the time of the Ottoman Empire, so make of that what you will.
This book follows two young enchanters, Vika and Nikolai, who are competing to be the Tsar's right hand man, almost. The reason the must compete: there is limited magic in Russia.
In this stories there is romance and action and secrets that have secrets of their own, and it will be awesome.
You can look up character profiles, a new one appears the first Wednesday of every month, until The Crown's Game is released, to go along with it is a giveaway.
There is one character profile so far, and that is Vika's, the giveaway is her necklace and a character card, so if that interests you, look up Evelyn Skye's page and go to the Character Profiles.
Passenger by Alexandra Bracken: January 5th, 2016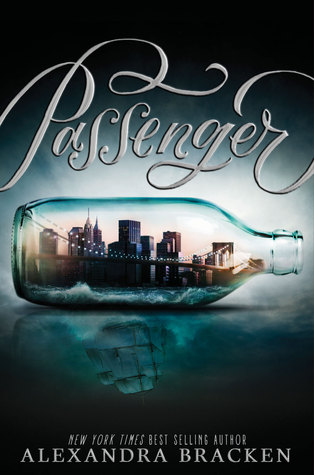 There are two things about this story that stand out to me: timetravel and the violin.
I have a soft spot for violins, it may or may not have something to do with a certain Carstairs. And timetravel seems to be a new thing, it's an old thing, but it is making a comeback.
Come quickly my love….
Anyways in this world, the main character Etta awakes in the year 1776, and sadly it isn't the one with all of the singing. Orders have been given to take this girl to a powerful family in the colonies who want her to retrieve an object another timetraveler has stolen, in return, she will be allowed to go home.
This… Just seems like a lot of fun. I am actually rather iffy on it, but I really loved The Darkest Minds, and I would love to see what this book holds for the future, so YAY.
Through this baby on your TBR.
The Muse of Nightmares by Laini Taylor *Date Not Final*.16
*COVER NOT FINAL*
This book will be quick, because we know NOTHING about it, other than it is a work in progress.
More will come when there is more to share, but for now, let's all just remember Daughter of Smoke and Bones and pray this Stand-Alone novel is equally, if not more creepy.
Riders by Veronica Rossi: February 2nd, 2016


This book just sounds all sorts of crazy and let me tell you, you cannot judge this book by its cover and title.
In this book, 18-year-old Gideon dies and finds himself one of the Four Horsemen of the apocalypse… First off that is fucking awesome. He, War, along with Famine, Conquest, and Death are brought together by a secretive girl who needs them to stop an ancient evil from emerging.
Which they fail to do. (And now if you're like me, you're all 'Wow way to spoil the ending' but hold the fucking phone)
Now, having been captured by the government, he has to convince them that the world is in immediate danger, save the girl he love (how cute) and save humankind (no comments).
Now: I love Veronica Rossi. I have not finished her other series *cue the Shame Shame lady from Game of Thrones*.
The last part, the lovey and save humankind…. They sound so much like cliches it hurts…. But the Four Horsemen? That… Is not something I have ever read of. I don't think any author or book I know of has ever whipped out the Four fucking Horsemen.
Bottom line: I want this book. I want it badly.
Beyond the Red by Ava Jae *2016, month and day not final*
*ART NOT FINAL 😥 **
This book is, according to Goodreads, to be published in March.
I think it is the first Sci-Fi on this list.
Not much is known about this book but here is what Goodreads says "A feud on a distant, crimson planet with established nanite technology creates a violent uprising that threatens the reign of a teenage queen and forces her to turn to her rebel half-blood bodyguard for help, before the planet's human population is destroyed at the hands of her power-hungry twin brother."
And here is what I say: first off, I don't know why, but that whole Other Planet (especially a Red one) has me all:


I would prefer that not be questioned, if you don't mind.
Then teenage queen. It's YA, if you're worried about the main protagonist being a teen I need you to leave. But a Queen? I love Queens. I don't really care what kind of queen, except Cersei, I don't like her, but I freaking LOVE Queens, so that Queen thing has me all:


And then she teams up with a half-blood, rebel body guard to take down her brother from destroying the human population.
For Percy Jackson reasons and personal reasons, I LOVE HALF-BLOODS, the term just makes me really happy and thrilled.
The entire idea of this book makes me thrilled and frankly I'm kind of sad I'll have to wait until March 2016 for the freaking book, like I love Queens. I do. I love Half-Bloods of all kind.
This book is awesome, I love the idea of it so much I USED GIFS!!
Okay kids, go add this to your Goodreads and follow Ava Jae on Tweeter because IT IS ON!
Ivory and Bones by Julie Eshbaugh *2016, month and date not final*
*Cover also not final*
So this one…. I really like the title, first of all, it makes me happy, I don't know why….. Can't explain it 🙂
But this is a book, and I'm imagining the setting is almost Ice Age-ish, which is something also knew to me, like there are books about being up North, where it is cold (the south can be cold too), but this sounds like, Ice Age, Antarctica kind of deal.
But this book follows Kol and his clan, who are all facing an uncertain future, when Mya and her family arrive.
Kol likes Mya, but gods only knows how, he ruins their relationship.
Then comes Lo, with her clan. Lo and Mya do not like each other, and from the sounds of it shit goes down evolving secret pasts.
Now, I'm not sure how I feel about this book yet. But I can tell you what I do like: I like that it sounds Ice Age-ish. And I really like that it sounds like two strong girls are going to be going head to head, not just competing for love, because the book isn't even out yet, and it sounds like Mya doesn't want anything to do with Kol, but because Lo and Mya have history.
So, pretty much my excitement for this book is based off of what I think it will be. You can look up the description on Goodreads, and see what you think for yourself.
Burning Glass by Kathryn Purdie: March 1st, 2016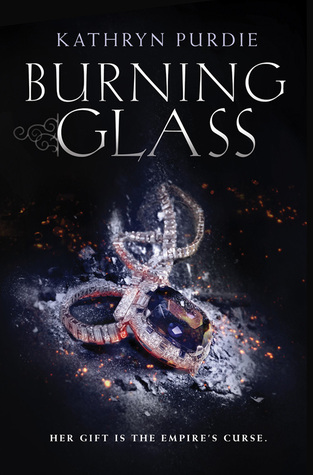 This one follows Sonya who has the ability to feel what others around her feel, both physically and emotionally. For 17 years Sonya's abilities are hidden from the empire but after a reckless mistake wipes out all the others with that ability, Sonya if hulled off to the palace to protect the king from possible assassin's.
In the world of the palace, Sonya is under constant pressure to protect the king, despite her abilities being untamed.
Then to make matters worse, threats of revolution arise, pitting the two brothers ( the king and the prince) against each, forcing Sonya to choose which side to take, who to trust and who to betray.
Go with the current king, Sonya, I have a bad feeling about that guy.
Anyways this book is appealing through the nature of Sonya's abilities, of seeing Auroras and being able to feel others emotions and physical nature.
I'm kind of curious what "reckless mistake" managed to wipe out all the other girls, but I'm sure when the time comes for this wonderful book to come out and I buy it, I will understand.
Flashfall by Jenny Moyer: *2016, date and month not final*
*COVER ART NOT FINAL*
In this Sci-Fi world, the main characters are Miners, in some of the most dangerous mines, though they are the best, or at least, Orion is the best.
When she and her pal, Dram, discover just what they need to get out of the mines, newcomers come and spoil all the fun.
What Orion and Dram discover about the true purpose of the mine kickstarts a rebellion, which kickstarts this book.
Kids, you may wonder: what does this book have to offer. I tell you: look on goodreads, because I'm shit at explaining it.
First of all, I like the main characters name, Orion, I like that on a girl, call me crazy. Also, crazy enough, the idea of miners down in tunnels of a radioactive world, actually sounds pretty freaking cool.
Rebellions in YA books happen all the time, but this feels like it's going to be some Sci-Fi, kick-ass, no shit, let's get this shit done, kind of book.
Does that make sense? Probably not.
But hey. The idea of this book is fun and really, if you want a better description look on Goodreads, and then add it to your TBR.
The Abyss Surrounds Us by Emily Skrutski: February 8th, 2016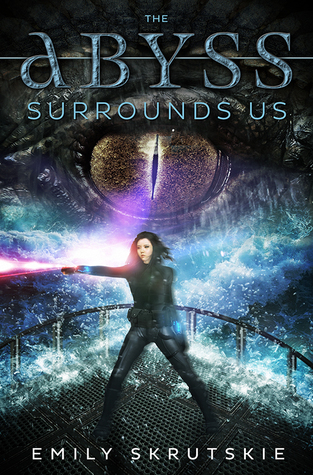 It has a date and a flipping awesome cover!
It also has pirates and sea monsters and if that is not enough to sell you on how awesome this book will be look at that cover again, because it is beautiful and colorful and I want to hung it *.*
This story follows Cassandra, who has been raised and trained to train sea beasts to protect ships in the sea from the pirates, which are everywhere.
And then she gets captured, not only by a pirate, but the pirate queen, which sounds like a really cool title. The pirate queen wants Cas to train her own sea monster to protect their pirate ship. Only, Cas has grown up fight the pirates and isn't about to turn around and help them.
I don't know how else to sell y'all on this book, but come on… You have pirates, Sea Monsters, a girl who was raised to train sea monsters, a PIRATE QUEEN (I love queens even if they're evil).
So… Please… Treat yourself to this book. Add it to your TBR.
Okay because this post is taking really, really long, I'm splitting it up into multiple part. Also I want a doughnut. And another blogger okayed this idea.
So I will continue, later on, my blog post of 2016 books to look out for!