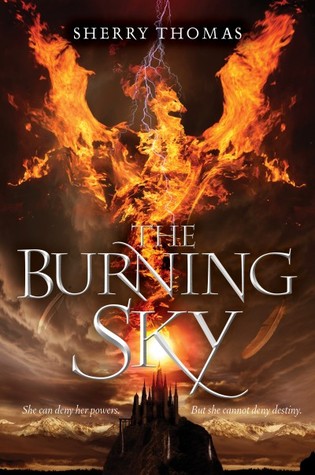 Well, I have finished The Burning Sky, clearly and I am going to move on to the next book, which for the life of me I cannot spell out.
Anyways, this was a pretty good book, great fantasy.
The ending was kind of sudden, in my humble opinion, and I was basically confused the whole book, but that could have very well been my own fault.
I am a very fast reader, so sometimes I miss things, and generally I'll read a book in a day or two, at the most a week, but I was unable to do that with this book do to the schedule, so it very well could've just be me forgetting things or getting books mixed up.
This book, if I was trying to describe it, would be if Harry Potter, Daughter of Smoke and Bones, and Avatar the Last Airbender.
I really liked Iolanthe/Fairfax, I don't know what exactly I liked about her, but she's really just her own person, does what she wants, but not in a stubborn reckless way…. Well okay, kind of in a stubborn and, maybe reckless way, but never without reason, and generally, usually it is a well thought out plan…. Not just an, "oh screw it" kind of thing.
Titus, was…. Okay, Jodi is right, he's book boyfriend, him and Elias, congrats, I actually like a guy.
He was a but annoying at the beginning, with the whole Fairfax ordeal, but by the end I was swooning. He was just really cute and sweet and pretty damn devout to Fairfax and it was adorable.
Do to the fact that I was pretty much confused the entire book, I gave the book a 3/5 stars on Goodreads, but I really would suggest this book to anyone who loves fantasy. Just straight up, good old fantasy. This was pure gold.
And now, I am very proud to have, not only the next book, but an advanced readers copy of it, and The Immortal Heights.
So next up is The Perilous Sea and Court of Five, because I'm slacking on my ARC duties.
Forgive me.
Okay, so glad I have Wi-Fi!
And next month is BookitCon!!!
Need to order some books.
Peace and Blessings,
-Kit Cat