HELLO WORLD, I am back and VERY SORRY about how long it took for me to post this, I thought it got deleted and it didn't, either way I will try to work faster, BAD BLOGGER.
To start us off is:
Into The Dim by Janet B. Taylor: 2016 (Month and Date not set)


In this book, we follow Hope, who is a phobia-ridden girl with a photographic memory. Her world changes when her mom is killed, and suddenly she is sent to an aunt she has never met. There she learns that her mother is not actually dead, but has been trapper in 12th century England by King Henry II and Eleanor of Aquitaine. In order to save her mom, she joins up with a team of Indiana Jones wanna-be Timetravelers.
And again, we have timetraveling, so this seems to be something happening more and more, I'm not entirely sure how I feel about this, seeing as I haven't read any of that… At all I think, unless The Magic Treehouse counted in which case, I love it.
What kind of gets me about this one is the crippling phobias and photographic memory and homeschool, basically this girl sounds like a wreck, which I love, and kind of like me, at one point when I was young…. Well I was homeschooled, but it was more like I was falling behind and had sky-high anxiety.
But this story yells like it will have some of that conquering of fears and learning to overcome them, and all of that cliche goodness.
I am hoping to hell that Miss Taylor does a good job of representing just how crippling phobias can be, I do my best to take my mental disorders seriously, I love seeing them represented in books and I love seeing the characters have to do their awesome protagonist thing, whilst having to cope with whatever disability is holding them back.
Assassin's Hear by Sarah Ahiers: February 2nd, 2016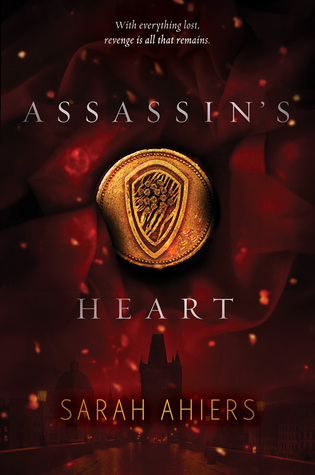 Imagine Romeo and Juliet, but in a world where the high, ruling houses are… Well Assassins. And this is what this story sounds like.
Because this character, Lea, wakes up to find her house burning and her family murder, and the girl has a good idea of who probably did it: her families biggest rivals, where also lay her secret lover.
Oh, this reeks of twisted beauty, and I love it. I love the idea of a world where the ruling faction are assassins. It's great.
And while there isn't much said in the description, I just… Am imagining all sorts of great things for this.
Whether it is a stand alone or there are more I don't know, but this sounds sick and twisted and beautiful, and basically my imagination is imagining all of the best possibilities for someone like me, with what I am given. I would definitely say add this to your TBR, look it up on Goodreads.
Ever The Hunted by Erin Summerill: 2016 (Month and date not final)
*COVER ART not final*
This one has very little about it in the description, so it will be… Very short.
Basically, its about a girl *HEY*, who's father is a legendary bounty is murder and the stakes are fatal if she does not find the killer.
A lot of what appeals to me is the title. I remember learning a bit about it, I believe in the FAC16 chat, and believe I learned to love it from there, also sounds a bit like the main girl knows her way around weapons so that is always fun, moving on…
The Shadow Queen by C. J. Redwine: February 23, 2016


This… Isn't what I expected.
this follows Lorelai and Kol, Lorelai who is fighting to take back her throne, Kol a second born prince, who is forced to make a deal with the queen who usurped Lorelai, and is given the task of hunting down Lorelai, though both are drawn to each other.
Lorelai will do whatever it take to gain back her throne.
I like the 'Shadow' part of this title. This whole thing is giving me a dark vibe, borderline evil vibe. But if I guess correctly, I'll be shocked, I highly doubt this book is dark, borderline good-evil.
I love the idea of two strong and powerful women facing off, I really like when theirs a female protagonist and female antagonist, equally matched, it just gives me joy.
Blackhearts by Nicole Castroman: February 9th, 2016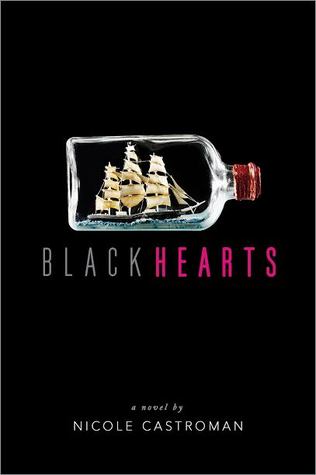 This sounds like a book that will hurt me in more ways than one.
About a young Blackbeard, "Teach", living in high society, and Anne, who goes to work for them, meeting and 'setting the world ablaze'.
I'm expecting to cry.
This books has romance and pirates, which, will be fun. A lot of fun.
I can only imagine things, when I right about these books, I am being excited for things I am unsure of, but nevertheless, I am excited. And this is one of the books I am excited for.
Is it the pirates, is it the romance, is it the possibilities?
It is all of those thing.
Go check it, is all I can say.
The Girl From Everywhere by Heidi Heilig: February 16, 2016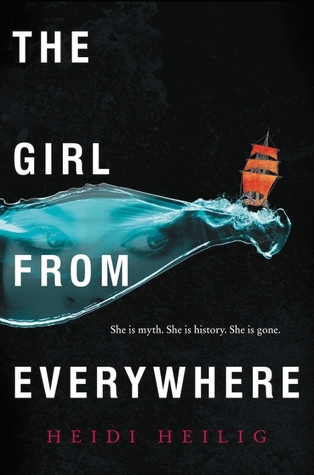 I love the simplicity of this cover and the Blackhearts cover.
This is another time travel one, but… I like the idea of this one a bit better?
Featuring Nix, who lives aboard her father's time traveling. Her very existence is threatened when her father travels back to the year she was born, when her mother died in childbirth.
Again, what I like about this are mainly the possibilities, yes, but also… Just the idea of it.
The idea of what can happen when people mess with time, I feel like that's almost lacking in the other time travel books I've read about.
This has a conflict that I always think about when it comes to time travel: how are you effecting someone's life, what will happen if you screw with the past, what will change, what will remain the same.
It's just so… Scary almost.
Timekeeper by Tara Sim: 2016 (Date and month not final)
*NO COVER YET*
In this world, every city is run by a clocktower and if one breaks time stops. This book follows Danny, a mechanic prodigy, who can fix any clock. When assigned to fix a clock in a small town, he finds himself drawn to the clock spirit (which is a no-no).
When someone begins planting bombs in the towers of nearby towns, cities become in danger of being trapped in time. Danny must find out who is doing this, lest losing his father and the boy he loves.
The first time I read the Goodread synopsis, I was drawn to it. I loved the idea of the clocktowers being the center of time in these places.
And I frankly still do. I like clocktowers, I like big clocks, they're awesome to look at.
But the concept of this story is so awesome… I just cannot put into words, how amazed and fascinated I already am with this world, and I cannot wait to step into it.
Another thing I'd like to address quickly, that I missed the first time: Danny is a boy who likes a boy: generally called being gay.. Or bi… but still. I don't know how I missed that.
But… My fangirl….
Is hurting.
Fudge.
Burning Midnight by Will McIntosh: February 2, 2016


Following Sully, a Sphere Dealer, which doesn't pay, especially in a Flea Market, who teams up with a girl named Hunter, after magical colorful sphere are revealed to be hidden around the world. These sphere can improve someone (make them taller, stronger), but are expensive and hard to get.
When Sully and Hunter find a priceless golden sphere, Alex Holiday will stop at nothing to get it from them.
And while everyone fights over these spheres, no one knows where they came from, what their powers are, or why they're there.
I don;t remember what drew me to this one, mainly the allure of not knowing the reason of these colorful spheres. Everyone wants one, but no one knows anything about it, so the mystery aspect is really fun there.
Daughters of Ruin by K. D. Castner: April 5, 2016


A mix between Graceling and Game of Thrones, this book follows four sister, though they are not sisters, nor equals.
Raised together, after a war, where Rhea's father became victorious. Rhea is cracking under the pressure of having to rule. Cadis is trying to redeem her people from their actions during the war, Suki is isolated by family secrets she guards, and Iren is not all she seems.
The idea of peace is shattered when the palace is attacked and they girls must decide: their kingdoms or each other.
Let's get to the point: four powerful girls. Sounds like all of them will be in depth and intriguing, more than one-dimensional.
Basically… I just like the idea of four powerful women, you know?
And last but CERTAINLY not least:
The Star Touched Queen by Roshani Choshki: 2016 (month and date not final)
*COVER ART NONEXISTENT as of current*
There are a lot of books that I looked at, and would've loved to put on here, but didn't because GoodReads said so little about them.
This is an exception.
This is like a Persephone and Hades story, infused with Indian mythology, about a princess who has to over come her sinister horoscope, and embarks on a quest to unravel her true identity and find the one she loves.
…… What….That sounds like THE PERFECT BOOK!
I cannot describe how badly I want it, and you know what, if you scroll through the #FAC16 chat, you'll see some of the stuff Roshani says about this books and…. Gods, it will make you want it more, I mean I was sold at the Persephone-Hades retelling with Indian mythology…. Guys please go add this book to your TBR list, it is already magical.
This is all I have for now.
There are more books I was planning on adding, but they had so little about them and I was unsure of what to say, etc.
I'll be doing more of these posts, because I keep getting more and more excited about these books.
And I'll probably do some later with some of the books I looked at but didn't get on this list.
So have fun, go forth and look up these book!
Peace and Blessing,
-Kit Cat