Good Day Mortal!
So update on bookish thing: I haven't been reading as much YA as I mean to. I simply cannot get into Court of Fives, no matter how hard I try, it's up then its back down again. I have not given up hope, I've just given it a break.
I am also reading The Crucible, for AP US History or APUSH as we call it. I might also read Fahrenheit 451, for APUSH, which ever one I find easier to right an essay on.
I've also learned, while I can summarize a good YA book, I cannot summarize an article for AP Psychology. I just don't know how I should feel about it.
Anyways, for the bookish updates, here are some I am SUPER excited about:
First is BookitCon! It is only four days away FOUR I'm actually kind of freaking out. So it isn't YALLFest, but nevertheless there are going to be awesome bloggers and awesome authors and I would really like to make a good impression on them, not embarrass myself like I have a tendency to do.
I'm also, believe it or not, panicking over what to wear. Like should I wear my Hufflepuff t-shirt or my Marauder's Map dress?
And I get to see Jodi Meadows again, which will be fun and Sarah Glenn Marsh, who will be mentioned again later, and other authors, who's books I don't have but will probably buy when I get there (sorry mom).
ALSO for BookitCon, Jodi Meadows is bringing an ARC of The Mirror King!!! Not for giving away purposes (I wish) but for petting and picture purposed.
*Sigh* I hope my babies are okay.
NEXT is yesterday was Truthwitch Tuesday, if you are like me and a Witchlander, you were sent on a special mission, which is in the works as we speak, and a few things to say about Truthwitch and the crazy things going on in our, shall I dare call it, a Fandom?
First there is an awesome giveaway on the Truthwitch Updates account, for a signed copy of one of the Something Strange and Deadly trilogy, which I'll post a link to below, and if you have not read it, you must get on that, because it is a delightful read from book one to book three. I'm so glad I read it.
Another thing is, it would be wonderful, marvelous, if more people would sign up for Sooz's newsletter, which comes via e-mail, and there will also be a link below. The Newsletter is called Misfits and Daydreamers, and I now consider myself both, as I seriously love the books (thus a Misfit) and love to write, thus the Daydreamer. So she sends it out and it has nice little advice for aspiring writings and for us readers who follow her, so PLEASE subscribe link is at the bottom of this post.
Next exciting book news, which will require more links, because promotional stuff, you feel? But next is: NIKOLAI! Not from the world of Grisha (though I'll be touching on that next (; ) no, I mean the Nikolai from The Crown's Game by Evelyn Skye! He is the next character profile, which is up on Evelyn's page, (link below), and he sounds…. Like he'll be Book Boyfriend number 3.
Yes I only have three book boyfriends…. It takes a lot for me to actually like a main male protagonist in a series.
So! Again, his profile is up, right next to Vika's, there is a giveaway at the bottom of the page, be sure to enter and if you want some more fun Crown's Game info, be sure to sign up (link below) to The Tsar's guard.
Okay so for this bookish new segment I have TOUR DATES!
So touring, or maybe not touring, but just showing up places, for this I'm excluding BookitCon, because… Well I already talked about it, sorry 🙂 But for tour dates, that I know I'll going to are I'm going to see Sarah J. Maas on her Queen of Shadows tour, I am driving all the way up to Bensalem, PA, just to see her, a friend told me that is called "devotion" I'm calling it "slight obsession". You know how it goes.
She doesn't seem to be going many place, so cue tears, but I'm still going to see her, because it is right before school starts, the next day is a holiday, so I get some time to recover before going back to school, THANK YOU, Maas, for timing it like that.
And the day before I see Maas, I believe I am going to the National Book Festival in DC, were one Sabaa Tahir will be and I hope I can go and meet her, if not, then I'm clearing room in my YALLFest schedule to go see her, or maybe I'll stalk her, either or.
Also at the National Book Festival will be Dan Wells (who my family loves, I kid you not) and Libba Bray (who my sister loves).
And then I get to see Leigh Bardugo on her tour, because the lovely woman is stopping by YALLFest, gods bless, that'll be picture galore, I tell you. And not only will I be trying to see her, I'll be trying to Alex Bracken again, as well as Marie Lu, and a whole host of other authors, who's books I have, and it'd also be cool if I could see Seth Fishman again, because I met him at NoVaTeen and he was a delight, a stubborn delight.
If you haven't heard of him, look him up, because he's great.
And finally for tour dates, Fall wise, they are not out yet, but I'm hoping they will be soon, are Sara Raasch and Sherry Thomas, Sara so I can scold her, Sherry because I have two ARCs of her books, which I really need to read, I read The Burning Sky, NEXT, but I need to read the others and meet her. So. That is that of Tour dates, which, Sara says hers will be released soon, I'm praying she'll be near enough to me, that if she comes to VA I don't have to miss school to see her because 4 AP classes can be an unforgiving number.
And again, everything I mentioned will be linked below!
And last, I swear this is last, are covers/pretty pictures of ARCs, which I have seen recently.
So for covers, we have Ava Jae's Beyond the Red:


This book I might be more than a little excited for and when I say that I mean I might actually e-mail a publishing company and ask for an ARC. Let me say this: I've done that once. I was more embarrassing than anything I have ever done.
I just really want this book.
Next is Fear of Drowning Deep by Sarah Glenn Marsh: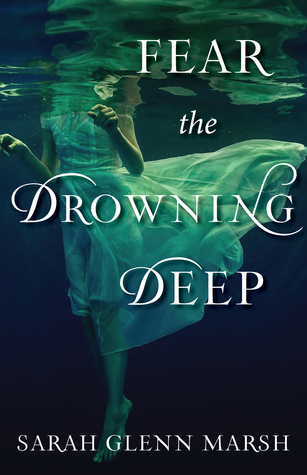 She is a BookitCon author, which 1. I didn't realize, as well as a 2. 2016 author!
So WOW! How did I miss her? I'm not entirely sure, but I cannot wait to meet her, look at her pretty cover!
And also, I'm going to count this, there is a new Darkling (Grisha) prequel story and this is it's cover:

Love it. Love the Grishaverse.
Okay and in this last week or so, I have seen two photos of AMAZING ARCs, that I want really badly, and might have asked for, but probably won't get:


This was also more than a week ago, Heidi Heilig's The Girl From Everywhere, this is one time travel story I am OOBER excited for and: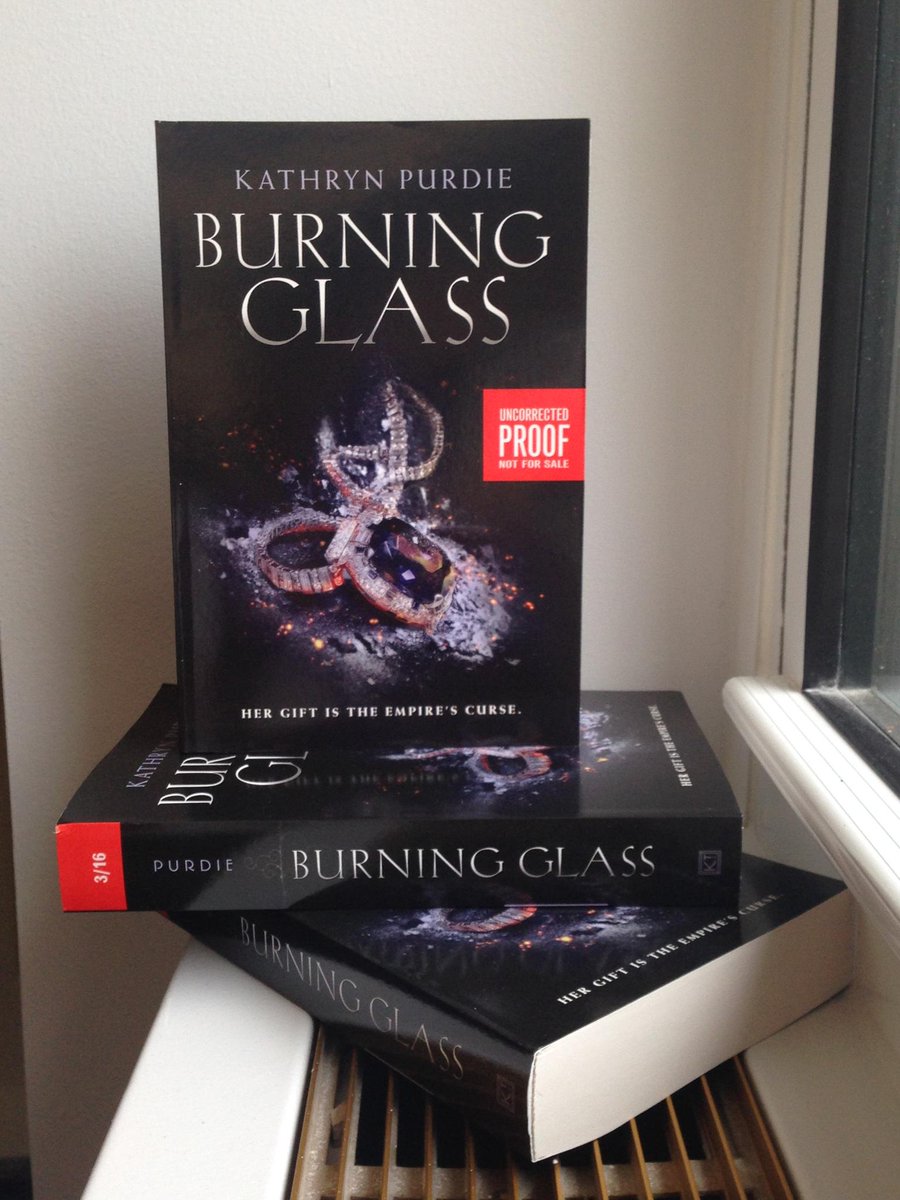 Burning Glass by Kathryn Purdie. Look it's so purdy. Ha… HAHA…. I'm such a dork, but it's so fat LOOK so much WRITING I love it!
The only time I don't like big books is when it's for English!
SO! That is all I have for Bookish New updates.
My reading is going very, very slowly, but I'm hoping after I'm done with all my AP Work, maybe it'll pick up? I'm putting down Court of Fives for a bit, because while it is good, I think it just might not be my thing, it just isn't doing it for me, which is weird, because…. Most books generally do it for me.
My sister has dubbed me a "Book Slut" because I'll read anything anyone puts down in front of me especially fantasy.
So, I don't know, but I've got AP Work that needs doing, and revising, because I probably did it wrong, so, go figure.
But I hope everyone is having a wonderful Bookish Day, read lots of Great Books, if you are going back to school soon, I'm really sorry, but good luck.
ALSO, as promised: LINKS
BookitCon Link: http://ububiz.com/event-information/
Truthwitch Poster/ SS&D Giveaway: https://twitter.com/Truthwitch/status/628601569433493504
The Sign up form for Susan Dennard's Newsletter: http://susandennard.us3.list-manage2.com/subscribe?u=cdd0d036e9531dd416bf945b3&id=11e0c331be
The Crown's Game Character Profiles (Nikolai Giveaway): http://www.evelynskye.com/characters/
About The Crown's Game by Evelyn Skye: http://www.evelynskye.com/the-crowns-game/
Sign up for The Tsar's Guard: http://www.evelynskye.com/the-tsars-guard/
Queen of Shadow Tour Dates: http://www.evelynskye.com/the-tsars-guard/
Or use this link for QoS Tour Dates: http://ic.pics.livejournal.com/sjmaas/709898/83029/83029_original.jpg
One is a Picture the other is her website/blog thing.
Leigh Bardugo Tour Dates: http://www.leighbardugo.com/news-events/     **Scroll ALL the way down for Six of Crow dates 🙂
YALLFest 2015 info: http://yallfest.org/2015-festival-info/
And that is all. All of the books I mentioned are on Goodreads 🙂
Peace and Blessings,
-Kit Cat