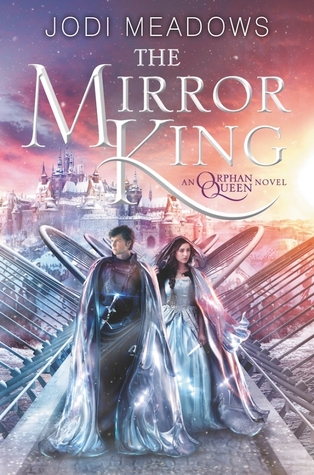 Okay kids, the word of the day is: Blown AWAY!
Because that is how this book has left me.
Blown away, breathless, nail-biting. I can't say I ever actually cried, though I did have to put the book on a solid surface many times because my hands were shaking so bad I actually couldn't make out the words. And at one point I did have tears in my eyes, they just never came out, because I refuse to cry.
But this book…. Oh, is it ever GREAT! How do I explain this! I loved it so much, I want more, but it is over.
Satisfactory ending.
The characters were great! I missed Wil so much, and the sass of Tobiah and James.
The writing was just…. Heh.
How do I explain it, I couldn't look away and when I was away from the book for a long time it was because whatever I had read before had effected me so much I need time to process it!
And there was so much of that.
Most of the time it was nail-biting and shaking and feeling like I was going to be sick because I was so worries about everyone and the situations they were all in.
This is the best way I can possibly convey to you all just how amazing this book is, a whole new level from The Orphan Queen, and April is too damn far away.
The good thing is there are still the Black Knife novellas I can cling to and snuggle.
But the minute The Mirror King hits the shelves, just ❤
Oh so, so, so, SO much love.
I cannot wait for people to read this and see just how great it is. More people need to read this, it has everything a book could need or want.
You've got your magic, love-romance thing going on, but also strong friendships, and the conflicts and struggles are so well written, they feel real, gods, everything felt so real.
Cannot wait to reread this in the final version, ugh, I have so much love for this book.
WHY ARE MORE PEOPLE NOT READING IT!
Oh it isn't out yet, but I need more people to read The Orphan Queen, because The Mirror is probably one of the most… Heart-wrenching, nail-biting, suspenseful, dramatic books I have ever read.
2016 is just the perfect year for books, let me say, and Jodi's book is just shining, it needs a shrine it is so glamorous and beautiful, it's like a holy book.
And if you think I am overreacting  AT ALL, then wait till April because you are wrong.
This book is THAT GREAT!
It is a six out of five star book.
I'm ecstatic about this book, like as sad as I am right now, I could not be more thrilled and content with it.
Also thank the gods for the Black Knife Novellas, BECAUSE I NEEEEED THEM!
-Kit Cat
PS: SPOILERS BELOW BEWARE: this is mainly for Jodi.
–
–
–
–
–
–
–
–
–
–
–
–
–
–
–
–
–
–
–
–
–
–
–
–
–
–
–
–
–
–
–
–
–
–
–
–
–
–
–
–
–
–
–
–
Baby Cakes #1 = James !!!! ❤ I love him, WHY?! I love him so much I can't even put it into words, my poor baby 😥
Baby Cakes #2 = Wil ❤ I feel so bad for her, but gosh dang it, I love her so much, but that poor poor girl HOW COULD YOU DO ALL THOSE THINGS TO HER?!
Baby Cakes #3 = Tobiah he temporarily lost his title, I'm pretty sure I marked where his did, but his swoony-ness and sass and the fact that I though he was dead for a while there earned it back.
Baby Cakes #4 = Melanie, the Sass master
Almost Baby Cakes =Chrysalis. But alas, not quite. I do forgive him for all of his mistakes though since he and James…
No I can't it's too much 😥