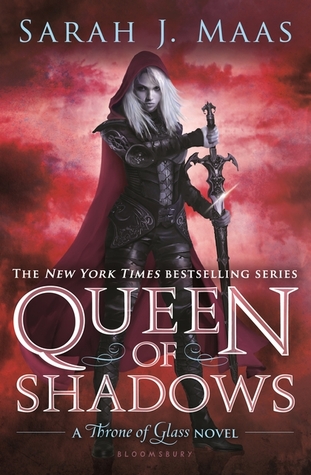 Five stars and 565 pages later!
Wow, amazing.
This is the first none-ARC I've read in a while, and while it was kind of a relief because many others have read it as well, it's also kind of sad.
I don't know why.
Waiting for the next book is going to be torture.
That being said I loved this book. Love it so much.
People have been complaining and complaining about Aelin and Chaol and I have NO idea what they were talking about. Because they're characters grew so much my heart nearly exploded.
So what if they didn't end up together, that is a BEAUTIFUL friendship in the making.
And I am overjoyed my OTP is together. They'll make a beautifully annoying couple (let's face it they'll rip each others faces off).
I feel god awful for Dorian, but at least he is alive. And hopefully on the way to recovery.
Manon is just…. One hell of a boss bad bitch.
This book is art. I freaking love it.
The characters, they way it's written, like a really good song, because I was happy and then sad, and oh my gods, I just need to talk to someone about this book.
Everyone needs to buy and read this book. It is PERFECT! Gods I loved it so much.
How do I tell people that it's beautiful and perfect and I love it and wish I could wed inanimate objects.
Honestly this is such an off topic post and I'd apologize but my friends have their schedules and I'm really happy, because Queen of Shadows was fucking perfection and I have classes with my friends, like I could die peacefully right now.
Gods bless.
Someone talk to me about this series if you haven't read it yet get on that I beg you.
No really, how could you hate this book when all the characters do is evolve and become better, stronger people, with love in their hearts and hope of the future, what do I do with my life now?
Probably wait till Throne of Glass 5.
Someone come and talk to me about it…. In like an hour because my phone is currently dying ;'(
Also all hail Sarah I'm hugging her when I see her next because that book is so damn beautiful.
Peace and Blessing.
-Kit Cat