There is nothing I love more than being part of the Truthwitch Street Team, even more so being with the Waterwitches. Never have I met a more creative, energetic, helpful, diverse group of girls!
For my sections, I asked Nicole Castroman author of Blackhearts, Heidi Heilig author of The Girl From Everywhere, and Emily Skrutskie, author of The Abyss Surrounds Us, about their books (all of which have Water-ish themes), themselves, and little about Truthwitch!
Thank you ladies for helping me out!
---
Can you tell us a bit about yourself, some history?

-Heidi: My name is Heidi Heilig, and I was born in Hawaii. I'm a writer. I like exploring and reading and trying new foods. I used to ride horses and one big regret is that I never really learned how to surf.
     -Nicole: An interesting fact that some people might not know about me is that I love to study languages. Growing up, I was always fascinated with different countries and cultures. I think when you see where people come from and learn about their history it helps build empathy and understanding.
     -Emily:  The story so far—I was born to a pair of astronomers, grew up on science fiction, and started writing some of my own. I finished and started querying my first book when I was fifteen, and I got a little addicted to it. That book never ended up going anywhere, and neither did the next one. But during my junior year of college, I started writing this book about sea monsters and pirates and the future, and I kind of knew this was going to be the one.
Could you give us a bit of information on your book?
-Heidi:  There are maps and time travel and a black pirate ship. There a handsome thief, a driven father; there are opium dealers and sky herring and plots against the last King of Hawaii, and in all of it, there is a girl who needs to know where–and if–she fits in the world.
      -Nicole: BLACKHEARTS is a Blackbeard origin story. It's not a story about a young man on a ship who acts like a pirate. There wouldn't have been any character development if I'd written that kind of a story. BLACKHEARTS truly is what I like to call PRE-PIRATE. This is what I imagined took place to set Edward Teach on his path to becoming one of the most notorious pirates to sail the seas.
      -Emily- THE ABYSS SURROUNDS US is the story of Cas Leung, a girl who's grown up training sea monsters to defend ships from pirates. But when her first solo mission goes sideways and she ends up kidnapped by pirates who are hell-bent on raising a monster of their own, Cas must learn how to survive among her lifelong enemies.
What is your ideal pet?
-Heidi: Sea dragon. Or a really soft cat I'm not allergic to
      -Nicole: Hmmm, I didn't know there was such a thing as an ideal pet. I do love animals, though. I especially love my dog, even though she sheds like crazy and has scratched up my hardwoods. I wouldn't trade her for anything, because she's an important part of our family. I don't typically trust people who don't like animals.
      -Emily- A really, REALLY big dog. And if we can veer this in a fantasy direction, a straight up polar bear dog.
Favorite TV/Show movie?
-Heidi: I loved Pan's Labyrinth.  Also, Indiana Jones and the Holy Grail.
      -Nicole: Oh, I love to answer this question. If anyone follows me on Twitter, they'll know that my favorite TV show at the moment is Poldark. It's my everything, and it reminds me of my own story BLACKHEARTS. I love me some period television, which means basically anything BBC. Whoever was in charge of casting for Poldark totally nailed it.
      -Emily:  I'll hit you with one of each. Favorite TV show right now is Brooklyn Nine-Nine, and my favorite movie forever and always is WALL-E.
What is your favorite candy?

-Heidi:  Right now, butterscotch discs!
    -Nicole: I actually don't have a favorite candy. I'm more of a savory person and would take French Fries over a chocolate bar any day.
     -Emily:  Lemon drops!
What is your most anticipated 2016 release(s)?

-Heidi: This changes almost day to day, because i am so excited about all of them, but right now I'm really excited about Where Futures End by Parker Peevyhouse and Rebel of the Sands by Alwyn Hamilton.
       -Nicole: It's hard to narrow down my most anticipated 2016 release. There are so many good ones and 2016 is going to be an amazing year for books!! Just take a look at the YA Debut 16 list on Goodreads. I'm excited for those. J Oh, but I can't forget all of the amazing MG books either! See, it's too hard to pick just one.
       -Emily:  As I am a fairly self-centered person, I'd be lying if I said I anticipated any 2016 book more than my own—it's just such a huge step in my career and I'm so excited for it! That said, I have a whole list of books I would time travel for—TIMEKEEPER, THE RAVEN KING, A SHADOW BRIGHT AND BURNING, THE GIRL FROM EVERYWHERE, THE LOVE THAT SPLIT THE WORLD, THE READER, GLASS SWORD, THE WINNER'S KISS, whatever Sarah ends up calling THRONE OF GLASS #5…
Of the elements, which is your favorite (Water, Earth, Air, Fire)? Why?

-Heidi: WATER because it's the best, really. You drink it. You swim in it. It can warm you up in a hot shower or cool you down when you jump into a pool.
      -Nicole: I think my favorite element is water. I know we need air to breathe, but there is something mysterious and fascinating about the ocean.
      -Emily-  Water, definitely. I was obsessed with whales when I was a kid, and I got my SCUBA certification at twelve because I was convinced my destiny was to become a cetologist. Honestly once you get me in the water, it's hard to get me out.
What is your favorite thing about the ocean?
-Heidi:  It connects every shore and hides deep secrets.
     -Nicole: My favorite thing about the ocean is its vastness. Whenever I'm at the beach or on a cruise, I could honestly sit and stare at the water for hours. If you think about what's underneath, it's mind-blowing and also frightening. Can you imagine what it took for those early travelers to get on a boat or ship without motors or satellites to guide them on their journey? They were so brave to leave their lives behind and travel to worlds unknown. I don't know if I'd have it in me to do that.
       -Emily- Ocean life. Nowhere else in the world is there such a range of life. You've got itty bitty diatoms and massive blue whales. You've got things with tentacles, things with fins, things with legs, things with flippers, things with little dangly glowy bits. Smart things and dumb things and scary things and adorable things (seriously, look up opisthoteuthis adorabilis)—there's just so much cool stuff going on in the oceans, and with so much of them unexplored, there's so much to discover yet!
What have you heard or know about Truthwitch?

-Heidi: I know it's a much anticipated book!
      -Nicole: I know there has been a LOT of buzz about TRUTHWITCH and I'm so happy for Susan Dennard. She's always struck me as a kind and caring person, both online and in person. I met her once, when she and Sarah J. Maas were in Atlanta for a signing. It was so fun to see them together. You can definitely see their friendship and Susan said that their friendship is reflected in TRUTHWITCH.
          -Emily-  Truthwitch first came to my attention because I saw so many bloggers enthusing over it and realized I knew absolutely nothing about the book beyond the fact that it had so much hype. That alone seemed like a miracle of marketing to me, so I started investigating the marketing campaign and the book itself, since pre-pub buzz has always been a fascination of mine!
What have you heard or know about the protagonists, Safiya and Iseult?
-Heidi: Not much, but i love the names!
     -Nicole: I know Safiya is a Truthwitch, someone who can discern truth from lie. This is a VERY cool skill to have and one I like to think I possess as a mother. (No joke. I can tell when my kiddos aren't telling the truth. I love it. They hate it. Bwahahaha)  Iseult is a Threadwitch, and she has a special power as well. She can see invisible ties that bind and entangle the lives around her. I like that Iseult is described as the calmer of the two and that she's a good foil for Safiya's hotheaded impulsiveness. And I love that they are two strong female characters.
       -Emily-  I know the Goodreads summary, so I know that Safiya is the hotheaded Truthwitch who has to hide her gift, and Iseult is the cool, wary outcast Threadwitch. But I'm excited to know more about them.
Based on what you have heard or know about Safiya and Iseult, which of your own characters do you think would best get along with them? Why?

-Heidi: I'm not sure! But I can't wait to read and find out. 🙂 
      -Nicole: Based on what I know about these two girls, I know my own female MC, Anne, could totally hang with them. Anne is strong and fierce and loyal and she can read people as well. She's also a bit impulsive herself.
       -Emily:  Cool, wary Iseult would probably get along great with cool, wary Cas. And Swift, the pirate girl who's assigned to watch over Cas, would probably get along with Safiya's impulsiveness. Though neither Swift nor Cas have the magical powers to keep up with them—I don't know how that bit would go down.
From what you have heard or know about the Truthwitch Clans, which do you think you belong in? (Aether, Void, Water, Air, Fire, Earth?) Why?

-Heidi: I'm guessing water, because i really do have an affinity for it.
      -Nicole: I think I'd belong in the Water clan. For all of the reasons I mentioned earlier. J
       -Emily:  Given my previous answers, I think it's pretty clear—Water's where I belong!
What are your thoughts on Truthwitch?
-Heidi: I love the cover, and i love how excited so many of my friends are for it 🙂 I'll definitely be picking it up!
     -Nicole: I honestly can't wait to read TRUTHWITCH! I think the premise sounds amazing. I want to get to know all of the characters, including Prince Merik. Hello, he's captain of a ship. (I have a soft spot for sailors.) And I'm already a huge fan of Susan's! January can't come soon enough!
       -Emily: Like I said, I'm in awe of the marketing! You lovely bloggers and your enthusiasm is a testament    to how great this campaign is. And come 2016, I'll definitely be keeping an eye out for the book!
---
A Bit about Truthwitch: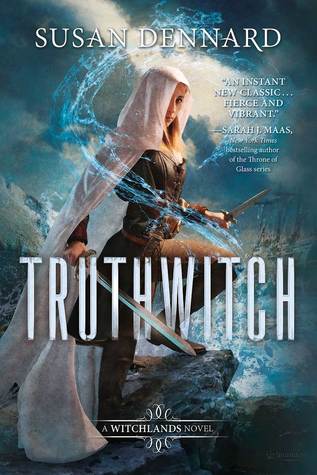 "On a continent ruled by three empires, some are born with a "witchery", a magical skill that sets them apart from others.
In the Witchlands, there are almost as many types of magic as there are ways to get in trouble—as two desperate young women know all too well.
Safiya is a Truthwitch, able to discern truth from lie. It's a powerful magic that many would kill to have on their side, especially amongst the nobility to which Safi was born. So Safi must keep her gift hidden, lest she be used as a pawn in the struggle between empires.
Iseult, a Threadwitch, can see the invisible ties that bind and entangle the lives around her—but she cannot see the bonds that touch her own heart. Her unlikely friendship with Safi has taken her from life as an outcast into one of reckless adventure, where she is a cool, wary balance to Safi's hotheaded impulsiveness.
Safi and Iseult just want to be free to live their own lives, but war is coming to the Witchlands. With the help of the cunning Prince Merik (a Windwitch and ship's captain) and the hindrance of a Bloodwitch bent on revenge, the friends must fight emperors, princes, and mercenaries alike, who will stop at nothing to get their hands on a Truthwitch."
---
A Bit about Empress Susan Dennard:

"
Susan Dennard has come a long way from small-town Georgia. With a masters degree in marine biology, she got to travel the world—six out of seven continents, to be exact (she'll get to Asia one of these days!)—before she settled down as a full-time novelist and writing instructor.
She is the author of the Something Strange and Deadly series (from HarperTeen) as well as the forthcoming Witchlands Series (Tor, 2015). When not writing, she can be found hiking with her dogs, exploring tidal pools, or earning bruises at the dojo."
---
GIVEAWAY: The Waterwitch Babes have a Rafflecopter giveaway for one Preorder of "Truthwitch" by Susan Dennard and a $30 Amazon OR Book Depository Gift Card (INTL)
Click HERE to enter the giveaway!
---
For more Information on the Blog Tour, you can visit our Tumblr Page!
Next Up!: Carine, tomorrow, October 19th!
---