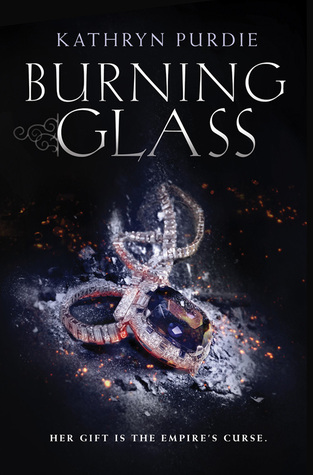 ARC Review; Burning Glass by Kathryn Purdie; 5 Stars:
"Sonya was born with the rare gift to feel what those around her feel—both physically and emotionally—a gift she's kept hidden from the empire for seventeen long years. After a reckless mistake wipes out all the other girls with similar abilities, Sonya is hauled off to the palace and forced to serve the emperor as his sovereign Auraseer.
Tasked with sensing the intentions of would-be assassins, Sonya is under constant pressure to protect the emperor. One mistake, one small failure, will cost her own life and the lives of the few people left in the world who still trust her.
But Sonya's power is untamed and reckless, her feelings easily usurped, and she sometimes can't decipher when other people's impulses end and her own begin. In a palace full of warring emotions and looming darkness, Sonya fears that the biggest danger to the empire may be herself.
As she struggles to wrangle her abilities, Sonya seeks refuge in her tenuous alliances with the volatile Emperor Valko and his idealistic younger brother, Anton, the crown prince. But when threats of revolution pit the two brothers against each other, Sonya must choose which brother to trust—and which to betray."
---
Oh friends. I took me SO long to read this. Not because it's a bad book. Make no mistake this book is phenomenal.
But between school and personal issues, reading time has been scarce.
This book is amazing.
The writing is full of detail so you get the full experience, making the book feel even more real.
It is full of suspense that just makes you want to turn the page and find out what is going to happen next.
Each of the characters are complex and face challenges in their own unique way.
I cannot tell you how many times I got to a point in this book where everything was going to hell or something was unearthed when my cellular device buzzed going "what was the homework again? What was that test on again?" and I had to put down the book.
There's a chance I'm blaming all of my bad grades on Kathryn Purdie's writing because holy hell it is so addicting.
It is like a drug. You read some and it leaves you wanting, needing more.
Something little about the characters will catch your attention and drag you six feet under into this intoxicating world making you go "what is next?"
Something else that got me about this book was the ending. I have seen endings like this before.
They seem nice, clean. But I have also seen the sequels to endings like this and it is TERRIFYING.
There are so many things at the end of that book that make you wonder, "what is going to happen next."
I crave the next book like I crave my next cup of coffee.
Oh friends, how do I describe to you just how extraordinary this book is?
The writing, the characters, the suspense, the plot, your nose will be glued to the book until you hit the last page, turn the page, look up and go "NEXT BOOK PLEASE!"
And I promised myself I wouldn't word vomit and I did.
Friends, if you have yet to add this book to your TBR DO IT!
This book is hardly lacking anything. Characters all over the spectrum, you've got that nice romance thing going on, A+ conflict, oh and Russian inspired?
Sign me up (again)!
Okay. Now that I have "reviewed" this book, I hope you all understand how amazing it will be. March cannot come soon enough, but I need the finalized copy and to meet Ms. Purdie and thank he for that amazing adventure.
That's all for now folks.
Until next time,
-Kit Cat