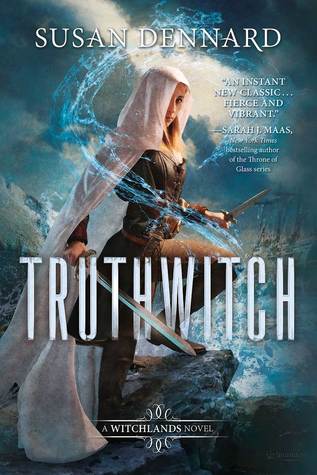 You know how many stars I gave this?
FIVE.
How many do I wish I could have given it?
10 BILLION!
Oh guys. This book is so worth the hype. I don't even know where to begin, because I was so blown away by it.
Going into a book that has a lot of hype surrounding it is a little bit scary. Because then you worry that you won't like it and be shunned.
But oh how this lived up to the hype and more.
By the end I was so enticed I couldn't look away. I was sucked into the book and taken into the world, joining the action, feeling for the characters…
Okay, so I'll start with the little stuff.
The characters: all were amazing. They each were their own person, unique different, refreshing. And by the end you just want to know more about them.
Especially Izzy and Aeduan. I want to know more about my precious Baby Cakes.
Then there was the world! I'm a sucker for world building. Something that definitely helped was Susan's Pinterest Board. Sometimes I looked at it while reading and it helped me imagine the world I was ending.
Okay, now let me get down to the realest stuff.
What I loved most about this book.
Not the romance.
Not the world building.
The friendship.
Allow me to gush.
Friendships is one of the things I prize the most. When reading there is NOTHING I love more than a good friendship.
SCREW THE ROMANCE I WANT THE FRIENDSHIP (I still do like some romance though).
Safiya and Iseult gave me all the friendship feels. The entire time I sat there going "That is what I want, that is what I've been longing for."
Both in books and in the real world.
The loyalty the characters in that book showed to their threadsiblings, the beautiful love that they had… It was the perfect friendship. The kind where they had each others back.
This story was more than a fantasy adventure, it is a beautiful story about loyalty and friendship and love, the lengths that you'll go for the people you love the most.
And it got me that a lot of it was between friends. That they were willing to do whatever it took to protect their friends.
God, it is SO freshing to have two best friends, side by side, taking on the world, never leaving each others backs, being their for each other.
It is the most beautiful crafted friendship I've read about.
No abandoning their friends for a boy, no really catty fights, it was two friends, going on an adventure, doing what they could to survive, it was beautiful and well-written and more than I ever could have dreamed of when I picked up this book.
I LOVE BROTPs and I finally have one. The perfect BROTP. The perfect friendship.
And I cannot thank Susan Dennard enough for such an enticing story, for such a beautiful friendship.
And I am so sorry for gushing, but the beautiful friendship. I cannot fathom how long I've been waiting for this.
The best stories are the one with the best friends.
(Currently praying I don't tackle hug Susan when I see her because that book is just too beautiful).
Also, I would like to thank Sharon Levin at Life,Literature, and Laughter, for giving me her copy of Truthwitch! Without her I would have had to wait longer for Truthwitch!
So, friends, if you're worried about the hype or not into fantasy, I assure you, the hype is real and this is FAR more than just a fantasy adventure. The levels, the friendship, which I will never cease gushing about… It is a story to be read for so many reasons.
Now friends, I must go gush!
Peace and Happy Holidays,
-Kit Cat