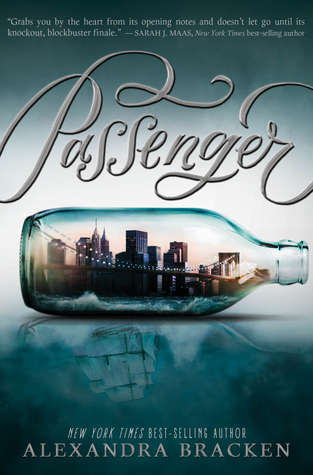 It seems as though only yesterday I was longing for 2016, to come along and bless me with phenomenal books.
Now let the waiting for 2017 commence!
I won't lie. When I first read the synopsis for Passenger I wasn't really impressed. I've never read time travel books, so there was some leeriness there.
However there were four deciding factors for me before I read the book.
Alexandra Bracken, in my opinion, is a great writer.
I read The Girl From Everywhere, which was also time travel (very different, though) and thought, "Hey Time travel isn't that bad".
The Book Trailer, which is still the best ever, click HERE to watch it.
Aila at One Way Or An Author was ecstatic about it and I trust her opinion.
She received all of my reactions to the book. Thanks, Aila.
I finished the book no too long ago. And I have to tell you, 2017 can not get her fast enough.
I NEED Wayfarer, I need to know what happens.
Passenger comes out in three days and I cannot wait for everyone else to share my pain, oh my gosh.
This book has helped me discover OTP. True OTP.
Okay, I'll try to do this book justice.
*Spoiler alert, I FAIL*
First of all, the characters. Each are, well, complex.
They're own unique person, with their own histories and more to them than what you're initially given. To top it off, they just get more and more complex as you go along.
And UGH Nicholas and Etta. They are my precious children who deserve to be protected and cared for. I love them.
Second of all, as a history dork, I very much appreciate the time travel and the justice done to all of the eras and places they go to, which is a fair amount.
And just… Oh my gosh, the story. THE STORY.
I couldn't stop reading. The stakes are high from the second you get in and it's as if every time you turn the page they just go up and the story gets more intense and (more romantic, shoo) by the end you're left wanting more.
And you finally get to the last page and you're left wanting 2017, which cannot come fast enough.
Friends, this is like the book of the century. A tale of love and adventure.
This is something I'll be geeking out about for a while.
Let's just say that it was totally worth waiting in Alex's line for seven hours to get it.
WORTH IT!
And if you bought it, be prepared for one of the most intense and epic adventures of the YEAR!
You'll be wanting more by page two, let me tell you!
FIVE STARS ALL AROUND, I could just hug the book, I love it so much.
This isn't the first time I've fallen in love with Alex's books and  I doubt it will be the last.
So please, everyone, do yourself a favor and BUY THE BOOK!
It is amazing and beautifully written and everything you could want in a book, Bracken gives to you.
I can't wait for Tuesday, I want the final copy so bad.
Just crying tears of joy, excuse me.
Still doesn't sum up how I feel, but comes close!
Oh, PLEASE buy this.
It's amazing.
I am dying.
Goodbye, I need pizza.
-Kit Cat