So I know it's only Friday, however, I would like to get this up now.
This week has been pretty phenomenal in terms of bookish news if I do say so myself.
So first off, there were the book deal announcements with Tristina Wright (you might know her as the lady with the lovely blue, mermaid hair) and Jodi Meadows (the lady with the unicorn and Kippy)
27 Hours by Tristina Wright is coming out in 2017, published by Entangled Teen, and this is the GoodReads synopsis so far:
In which a group of queer teens living on a colonized moon must race against the clock to stop an attack that would make the war between their cultures a war of extinction.

However if you follow Ms. Tristina Wright on her Twitter you may know a little more about it, and she also has an AMAZING Pinterest Board for this story!
---
The first book in The Fallen Isles Trilogy by Jodi Meadows will be release in 2017 as well by Katherine Tegen and this is what Goodreads has so far as a synopsis:
New fantasy trilogy about a girl stripped from her political family and imprisoned, her fellow inmates who know more than they say, and a dangerous secret about illegal dragon trafficking that might be her only hope of escape
Jodi has also written the Incarnate Trilogy, all of which are out currently and The Orphan Queen Duology, the second and last of which will be published this year.
She also wrote a book with Cynthia Hand and Brodi Ashton called My Lady Jane, which will also be out later this year!
---
Also, this week we have some Susan Dennard news!
First off, yesterday Truthwitch was released in the UK: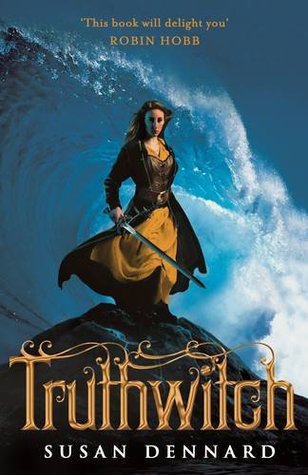 Can't wait to get my hands on a copy. I don't necessarily need all of them, but at least I'd like most of them.
And even more excited, Susan is also now A NEW YORK TIMES BESTSELLER!!!
Rock on Sooz! We all believed in you!
Susan also has ANOTHER series, that came out before Truthwitch, the Something Strange and Deadly Trilogy, all of which are out right now and is definitely something steam punk fans are going to want to check out.
Susan also has a Pinterest, so you can look at it while reading Truthwitch or look at it to ease your Windwitch cravings because she has one for that as well!
---
You also might have seen that Alexandra Bracken's Passenger hit the NYT Bestseller charts as well, coming in at number one!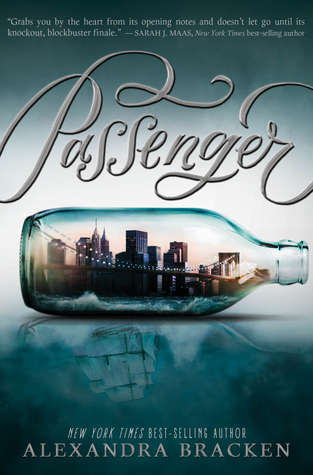 That book is very emotionally taxing. But, here I will link you to her Pinterest Board too because that is where I go when I'm having the feel-ies.
---
Finally, this week we had TWO cover reveals (I think they revealed Heartless this week?).
Well the first of these was the Heartless cover by Marissa Meyer: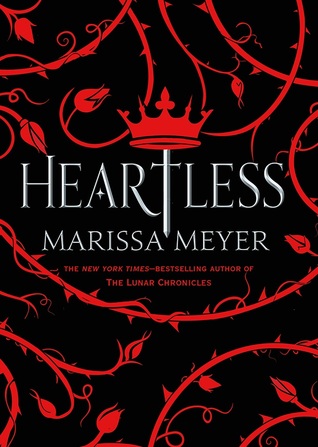 Here is the GoodReads Synopsis for this beauty:
"Long before she was the terror of Wonderland — the infamous Queen of Hearts — she was just a girl who wanted to fall in love.
Catherine may be one of the most desired girls in Wonderland, and a favorite of the yet-unmarried King of Hearts, but her interests lie elsewhere. A talented baker, all she wants is to open a shop with her best friend and supply the Kingdom of Hearts with delectable pastries and confections. But according to her mother, such a goal is unthinkable for the young woman who could be the next Queen.
At a royal ball where Cath is expected to receive the king's marriage proposal, she meets Jest, the handsome and mysterious court joker. For the first time, she feels the pull of true attraction. At the risk of offending the King and infuriating her parents, she and Jest enter into an intense, secret courtship.
Cath is determined to define her own destiny and fall in love on her terms. But in a land thriving with magic, madness, and monsters, fate has other plans."
Well, I adore this cover, some people think it's too plain, but that's part of its charm in my opinion.
The story doesn't sound too shabby itself though I may be biased because the MC and I share a name.
The second cover reveal was the cover for A COURT OF MIST AND FURY by Sarah J. Mass!
Here we have THE EPIC Goodreads synopsis of the books, as of current:
"Feyre survived Amarantha's clutches to return to the Spring Court–but at a steep cost. Though she now has the powers of the High Fae, her heart remains human, and it can't forget the terrible deeds she performed to save Tamlin's people.
Nor has Feyre forgotten her bargain with Rhysand, High Lord of the feared Night Court. As Feyre navigates its dark web of politics, passion, and dazzling power, a greater evil looms–and she might be key to stopping it. But only if she can harness her harrowing gifts, heal her fractured soul, and decide how she wishes to shape her future–and the future of a world cleaved in two.
With more than a million copies sold of her beloved Throne of Glass series, Sarah J. Maas's masterful storytelling brings this second book in her seductive and action-packed series to new heights."
AAAHHHH How epic!
Thankfully SJM also has a Pinterest for the ACOTAR books, but also Throne of Glass and a few other that look like WIPs so you should TOTALLY check them out! (Especially Cresent City, that's a personal favorite of mine!)
---
So I THINK that's all there is for now! That may not seem like a lot but the weight of how awesome it is was just so much I had to get it out there!
Also, since I am on a Pinterest Board kick, I would like to introduce you to some of my favorites (ones that I haven't already mentioned):
Tara Sims, author of Timekeeper, her Pinterest is the bomb dot com, just like her!
Roshani Chokshi author of The Star Touched Queen, her Pinterest is as beautiful as her personality.
K. Kazul Wolf, lovely Tweeter person I found, with a BOMB Pinterest.
Liran, my Threadtwin, who's Pinterest hold slight secrets of her WIPs.  
And Sarah Glenn Marsh, author of Fear The Drowning Deep, you can go ahead and get slightly more acquainted with her story ON PINTEREST! 
---
So that is all for now!
What was your favorite Bookish new of the week? Are you anticipating more? Was there anything I missed?
Have an awesome day!
-Kit