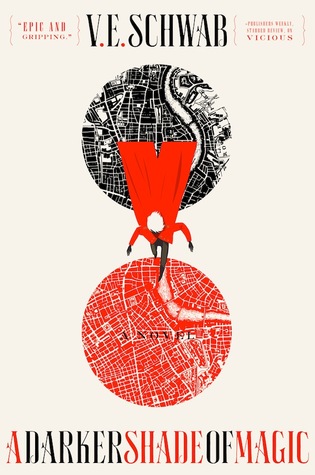 This was quite the interesting book. I still remember hearing about it all over the web, people loving it everywhere I went.
And they were right! This book is AMAZING!
First of all, the idea of the different Londons, different worlds, with varying degrees of magic and a rare few able to go between them, just feels like a fascinating thing. Some are better off than other, they all have different languages and statuses, for example, Grey London, being like the one we all know and Red London being (from what I gathered) a flipping Empire.
And The different Languages as Lila discovers going from one London to another the first time.
Also great were the characters, each with their own feel to them. They definitely have room to grow and I can totally see some of that in the future (with A Gathering of Shadows coming out REALLY soon).
Personally, my favorites were Lila and Rhy.
Lila had a lot of spirit and will to her, she wants to go, go, go, be on an adventure, live her life as fully as she possibly can and I feel that on a spiritual level, very relatable on my part.
Rhy was just amusing, he seemed fun, a little ignorant and presumptuous but he IS a prince so I think we can forgive that. Even if he wasn't in the book as much as Lila and Kell were, I did enjoy nearly every part involving him.
As for Kell, I actually did like him, because he felt like a gray character to me. More on the better side of things, but like he was slipping, which could have been the magic, but either way, I enjoyed that feel to him.
The only reason I did not give this book five stars (I gave it four on GR) is because, for whatever reason, the pacing felt a little slow to me. I wanted to get somewhere and felt like I was not getting there fast enough, but the characters and the plot just kept me hooked so that I could never put it down, even when things slowed down, I just wanted to see what would happen next.
Definitely a good book. I feel like fantasy fans and maybe Lord of the Rings fans would enjoy.
There were some Short but Accurate posts on Tumblr a while back and one described A Darker Shade of Magic like taking the ring to Mordor, which is totally a vibe I was getting from that book.
Either way, I'd say pick it up and personally can say I will be picking up A Gathering of Shadows when it hits the shelves.
Also, because I now feel fond of Shwab's writing I'll probably go for This Savage Song soon, so look out for a review of that.
That is all for tonight, thank you for reading!
-Kit