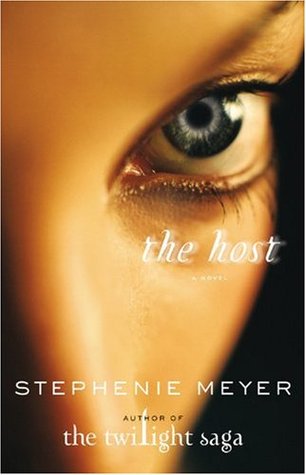 Despite my family's consensus about Stephanie Meyer's books, I really liked this one. I never read Twilight, just this, but I still liked it, it was cute.
This is a book I look back to fondly. It's like some lighthearted fun, a good story, a nice read.
It's a big book, but a stand alone, it's a sci-fi, romance book, with fun and quirky characters, a good story line, you've got your suspense and so on, and it's just a nice read.
I sometimes still pick up our copy when I just want something to flip through, because it's very gripping and you WANT to read it, but at the same time it's so light and easy to read, that it just makes the book for enjoyable.
Plus I love the premise and the idea of aliens the way they're presented in the book and similarly the path to empathy and morality Wanda ends up taking, the understanding and compassion.
It's just a very sweet book, like that's one I remember very fondly.
I'd totally suggested it to anyone who didn't feel like reading something heavy and just wanted to read for pleasure.
I wouldn't say spread it out too much, because while it is a light read, one of its faults is a lot of characters, that can sometimes become hard to remember, and if I remember correctly a few smaller plot points, that might come up and you may say "what and when the eff?"
Other than that it is a swell read that I still really enjoy reading.
Especially Jeb. I'm very fond of him.
I hope that's his name, otherwise, I'm an awful person.
Four Stars 😀
Peace and Love,
-Kit Cat
PS: I actually just saw something that said there might be sequels and there's a chance I'm heartbroken.It's good as is, please leave it.