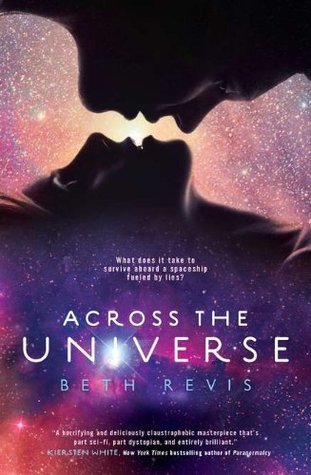 This is tragedic. Do you see this? THEY CHANGED THE COVERS?! THEY DON'T MATCH.
MY HEART.
The covers, however, do not display the quality of what's inside the book.
WHICH IS EPICNESS!
You all may know that I'm like a low-key sci-fi fan
(But, no suggesting Illuminae to me because I have MAJOR formatting issues I'm trying to get over).
Anyways, this trilogy was like total heart eyes, you guys, I cannot EVEN!
So, to give you a little background…
This trilogy is dual point of view, following Elder and Amy (my precious children) on a spaceship called Godspeed.
If I remember correctly, Amy is on this ship with her parents, one is a scientist and the other a military person (I think), and they're on this mission to explore a planet that is supposed to have life on it mimicking what Earth has.
Amy wakes up and finds herself on the Spaceship, which is a weird fucking place, in which everyone is the same. Not only do they look they same but they're like robots.
Have you ever seen V? If you have 1. I'm sorry and 2. It's basically like what happens when the Visitors put everyone under Bliss.
There is Elder and Eldest who Captain/run the ship, what have you.
Anyways, Amy wakes up before she's supposed to and it sets in motion all this weird mystery stuff and OH MY GOD IT IS SO INTENSE.
Basically, Across The Universe is like a Sci-Fi mystery novel that turns out to be all kinds of fucked up.
A Million Suns is like a Dystopian but there isn't a corrupt government. It's hard to explain without spoilers but that's where shit starts going down.
But I lied, Shades of Earth KILLED ME!
This isn't one of those trilogies you read in which the first on is GREAT the second one you could give or take or it seems really unnecessary and the third is a bummer, they are ALL great and amazing. It is suspenseful and beautifully written and I LOVE it and would definitely recommend, especially to a fan of sci-fi, but it also crosses into other genres too.
It's got likable characters, an epic storyline every book, to go with the main storyline, and the problems aren't just "sci-fi" book problems.
It is a REALLY good trilogy and I am SO glad my mom introduced it to us ❤
Overall, I give it 4 to 5 stars because I'm indecisive, but I love it.
Peace and love,
-Kit Cat