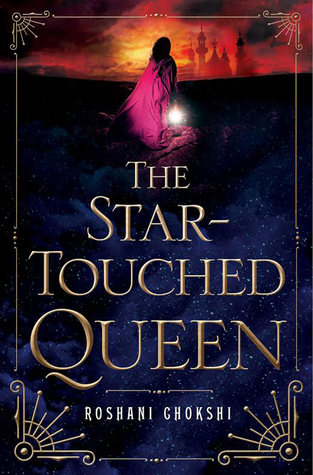 The Star-Touched Queen by Roshani Chokshi.
(Somewhere in my godawful archived posts I wrote about 2016 books I was excited for, this included with the original title "The Bride of Dusk and Glass". Also, I think The Crown's Game was still called "The Tsar's Game").
First off, I have to say, this book is worth your money. So worth it. To give you some words to describe it, The Star-Touched Queen is colorful, imaginative, creative, original, delightful, and awe-inspiring.
This book is a beautiful painting or drawing, one a person would find themselves staring at for hours out of awe and trying to figure out how to put it into words until they realize it is beyond words.
A piece of art full of colors, both bright and dark, with fire and flowers, and so creative and wonderfully overwhelming one hardly knows what to do with themselves.
This book is just so unique and beautifully crafted. A Hades and Persephone retelling with Indian mythology. This is what got my attention at first but it is honestly what's between the pages and how the story is crafted and formed, with things I've never heard of before.
First off, I wasn't that big into Hades and Persephone's story. Well, I didn't know that much about it, just that it was… A sort of love story.
But then the Indian mythology? All for that it got me and reading this book was just so amazing in that aspect I just want to read it five-hundred times over and soak it up.
The Star-Touched Queen has this wonderfully unique way of describing events and emotions in such a way that one would tilt their head and their eyes would turn to stars it was AMAZING.
The beginning of the book reminded me a bit of The Raven Boy (not in the way you may be thinking) but in the way, I was able to spread out reading it. It wasn't a pressing matter, something that demanded to be read.
The second part took a, shall we say, violent turn. A shocking turn?
It made me cry and took me a little bit to pick it up again because I just need time to recoup from what had happened.
The second part is all action, fast and intense and holy wow, I am dying inside.
It is the second part in which Maya begins to grow and then BROMANCE.
I call it her and Kamala are an epic pair.
ANYWAYS! I loved this book.
I am having a little bit of troubling giving it a rating because on one hand there were part in which I thought "hhmm" or the ending seemed kind of fast, but then again it wasn't like Ignite Me which was rushed, but it was just really fast, which I actually kind of liked.
It was an amazing interpretation of the chaos of the moment.
Otherwise, this book was such a beautiful work of art that I kind of want to frame it and protect it and love it.
YES IT IS SOMETHING YOU SHOULD INVEST IN!!!!
It is a stand alone but will have a companion novel about another character and I ADORE that, I adore that I will not have to deal with any cliffhangers or waiting for a second book, that I received an amazing and satisfying ending and can now go about my life happily.
For the sake of needing to give it a rating, I'd have to say 4.99 or just a 5 because it was truly magnificent.
Peace and love mortals!
-Kit Cat
P.S. For anyone wondering the next read will be The Crown's Game (as I REALLY need to get that read and reviewed) followed by Ivory and Bone, My Lady Jane, and This Savage Song.
So. Many. ARCs.
Wish me luck!