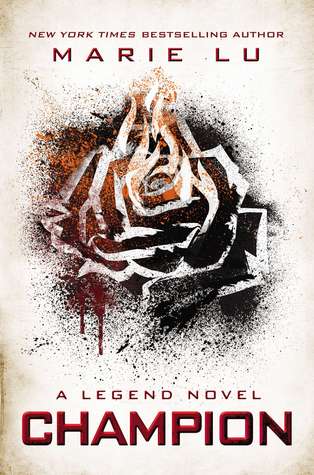 One of the first things that comes to mind when I think about this trilogy is when I was finishing Champion or I'm pretty sure it was Champion.
It was around Chrismas time or Winter, at the least. I had sped through the trilogy (all of the books were out by then). I was sitting in front of my heat fan for warmth. Then I finished and remember this hollow, empty feeling in my stomach.
It was over. The ending had made me VERY sad. I wanted more, I wanted some sort of closure. I wasn't displeased but I was not pleased.
No closure came until my mom talked to me about it and made me feel better about the ending.
But I remember this trilogy fondly. Fondly enough that I went ahead and bought her new book (it was new at the time) The Young Elites because I thought it'd be great. And it was but it didn't give me the same feeling as Legend had.
Let's talk about the things I remember and liked.
I remember loving dual points of view. Loving how it was June and Day  and first person and one could tell the difference, not just because of the names at the top, but because of font color.
I remember being very invested in the drama, the suspense, and the tragedy of the book.
Of course, I remember being THRILLED. I read this book during my dystopian phase and it was the ONLY book which explained what some other part of the world was doing! HOORAY!
Anyways, it's hard for me to pinpoint having read it a while ago but I honestly loved it so much.
I feel so oober lucky that I got to meet Marie Lu.
And honestly, when I think of her I can't think anything negative.
I remember getting in her line, my first year at YALLFest, only to be cut off before meeting her. And she came back.
I'm pretty sure she did that the next year to just to be sure she got to see everyone.
Plus she was so small and well dressed… How could I not like her?
Overall I give this trilogy a 4 star rating. 
Definitely one of the better books that came out of my dystopian phase.
Peace and love,
-Kit Cat