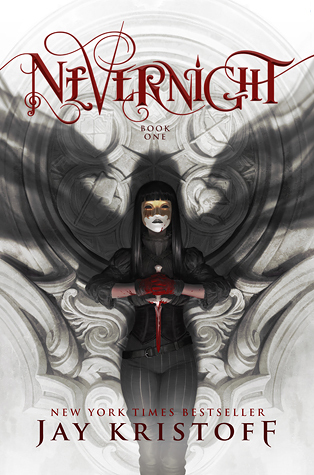 (Picture is from GoodRead and GR link is here)
Disclaimer: there is no outside variable affecting the review of this book. Not that it was an ARC. Not the hype surrounding it. Nothing.
This book absolutely blew me away.
I'm not sure what I expected when I grabbed it and began reading it but that certainly isn't what I got.
Instead, I was handed amazing characters, an epic and thrilling story line, great quality writing, and phenomenal world building.
The first page hooked me. But I was quickly lost after that. After that came the surge of  confusion at the actions at hand, at the foreign world I was in, and, especially at the hoopla of footnotes that came with it, taking up about half a page at a time.
But, soon enough, it all made sense. The beginning, the footnotes, the actions, all was subtly explained. And all of it lead into an intense and epic story.
First, we have the VERY interesting and VERY unique characters,
The MC, Mia Covere, a wonderfully amazing girl with abilities over the shadows (fuck yes).
While Mia's motive didn't initially strike me as unique, the rest of it did (and soon the motive caught on, along with the rest of the story).
From the description of her appearance, her personality, her behavior, her actions, all of it struck me as different and unique. Rough and tumble, doesn't take shit, she's like everything people will claim YA protags to be even when they're not.
She was the way I though Celaena was supposed to be, like a hard-fucking-core Celaena.
I loved, I love, every murderous ounce of Mia Covere.
Then there was my son, my everything, my precious, smol, innocent, assassin, Tric.
Everything about him is wonderful and amazing, from the way he's described (fucking delicious) to his behavior and action just struck me as amazing and marvelous and different.
Sure there's a little angst, but this is a school for Assassin's, everyone has against, even the fucking Shadowcat.
Speaking of the shadowcat, I loved that little shit.
Now we have the world building. I could probably write an essay on this.
It was amazing.
Phenomenal. The best I've ever read. 
The best I've ever read. 
Inspiring.
I wanted to cry, I loved it so much.
Three suns, a rich, vivid history, a full on, developed religion, and a weird day-night structure, all of it was so mind blowing, it felt real.
Like a real life history that I could practically touch and live because that's how close and amazing it was. 
It didn't even matter that the world wasn't real it help real and amazing and like the best world I've ever read about and probably will ever read about. Jay Kristoff has ruined all other worlds for me because this one was A+ to the max. 
To be honest, I could go on for hours about this world, about the Red Church and the cities and all that went into it, I could propose to it, marry it, love it, frame it. But I'll move on. 
Finally, there is the actual story, following the epic characters through the BEST written world I've ever read about.
Honestly, I was hooked. I kept trying to work out all the twists and turns and mysteries, the Red Church, the shadow animals, what Mia was, the secrets of the entire story, the foreshadowing, and I was still shocked and blown away, into the world's biggest book hangover.
While this book is definitely mature for being marketed as YA it isn't anything a YA audience couldn't handle. By now, they should know it has sexy times that would put anything in ACOMAF to shame and some pretty hardcore characters and violence.
This is still one of the most rocking books that will come out this year. This is a book you will NOT want to miss.
5 stars.
Kit Cat.