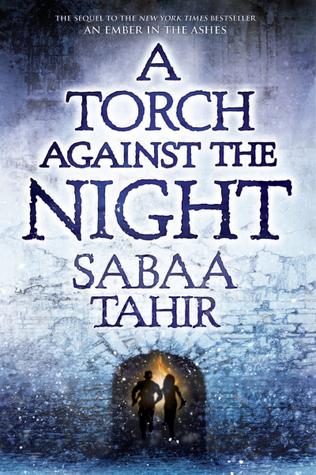 (Here's the GoodReads linky).
(This Review was not affected by any outside variables. Just how I felt after finishing).
I loved An Ember In The Ashes. It blew me away, was my pride and joy, all I wanted to do was sing its praises from the high heavens because, damn, it was good. Afterwards, for weeks, all I could think about was that sequel we'd finally been promised.
Unfortunately, I was disappointed.
Was it because I wasn't feeling it? Maybe because I'd just come off from reading three AMAZING books and felt a massive longing to read them again or books like them? Was this one just not up to par with Book 1, in my mind?
I don't know. But, sadly, I finished it feeling bored and like my time could've been better spent.
A Torch Against the Night bored me to tears. Reading it felt like a chore and I found myself trying to avoid reading it, though I knew I couldn't move on until I finished it. I even tried reading something else but I still felt compelled to finish it.
Okay, where to begin.
I wasn't a fan of the characters this time around. They seemed whinier and all their problems seemed dull and over dramatic. It felt like they spent more time whining about their problems than actively doing anything to prevent the problem. 
Then there was the romance. It made me want to shove my head through the wall, as they seemed to focus on it a lot. They all seemed to be in love with one another but didn't want to admit it. And *Mild Spoiler* there is a war and mass genocide going on. If you want to make out, do it, if you want to have the sex, do it. Go with it, act on your feelings, get it over with, and move on. Let's not try that slow-burn love-triangle/square/pentagon, what have you. 
Move on. Get  it over with. Get shit done, you all did it so well in the first book.
The entire book if them trying to get to Kauf, to Laia's brother and let me tell you, the only thing I remember is them leaving the school and *minor spoiler* getting to Kauf. Everything in between was so insignificant and irrelevant to me that I just forgot. I just didn't care. 
Helene's chapters were some salvation for me. With her, I found some interest in the going on's. It was only when she mentioned Elias that I felt the slight need to stab myself in the arm with a pen.
But at least I got some action and got to see shit go down, things happen, and some character growth ❤ .
Now there's the plot twist because the end does have some major reveals.
Which I guessed and didn't care about. When it happened I felt absolutely nothing but the ever constant boredom. Painfully anticlimactic to me. 
I, personally, think I'm the most gullible person in this world. The fact that I managed to guess what was going on, not to the teeth, but almost all of it, before we even got there SUCKED. 
Overall the book tried to be more fantasy orientated which I felt like I should've loved but it felt sloppy and dull to me.
In the end, reading this book just didn't do it for me. As much as I wanted to love it in its entirety, I found hardly anything about it to love. I'm still looking out for the next book, in hopes that this was just the usual sequel.
Rating: 2/5 stars.
Peace and Love,
-Kit Cat