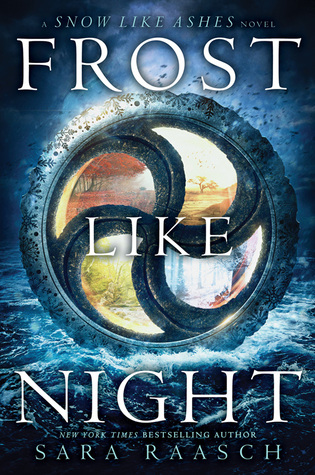 (The info and the Goodreads link are HERE!)
(This Review was not affected by any outside variables).
*Angelic Choir*
The end to all ends, Frost Like Night, the final book in the Snow Like Ashes trilogies, cue a mix of screaming and crying.
Ah, this trilogy… It feels so close to my heart. This feels like the end of an era. Of course, Sara has a new book coming out next year (Check it Out!) but this… THIS! Oh, these books are so good. So satisfying and wonderful. Thinking of them puts a smile on my faces and gives me a feeling of contentment.
Frost Like Night was as amazing as the two before it.
Full of adventure and fun and A SHIT TON OF HEART BREAK. That's right folks, you heard it first! By the end of this book, your heart will be in so many tiny pieces you'll just fuck whatever chance you have of putting it back together again!
It's great.
Anyways, Frost Like Night was split into three POV's following Meira (my love), Mather (eh), and Ceridwen (the badass love of my life, my book girlfriend, my sun).
Following Meira was an amazing rollercoaster of relatable feelings as it has been since book one. While I've definitely never been in the position Meira is in, I can relate to her feelings of doubt, as well as how quickly she works at getting over her doubt to achieve the long term goal. 
She's honestly grown so much since book one and I love her so much, she deserves the world.
Character growth like that feels so rare these days and it was done so well.
The same can be said for Mather. I feel his growth in my gut, especially since I went from wanting to shove his head through the wall to thinking he's a pretty okay guy.
In the end, he knows what he has to do and gets it done, and is there for his people and Meira all the while, and that's a beautiful thing.
As for Ceridwen, she also shows growth, which I find fucking amazing, considering she's only present for two books, thus has less time to show growth. Yet Sara did it and I left this series loving Ceridwen more than anyone else.
Of course, we also have world building, but I think we all know how I feel about Sara's world building. I freaking love it. What the allure of having seasons as kingdoms are, I don't know but I fucking love every bit of it.
(Also, what is it with Sara(h)'s against Spring? Because in ACOMAF Spring is a dick and in SLA Spring's a dick, what the fuck did Spring do the the Sara(h)'s?)
So, yes, I loved this book as much as the first two.
It wasn't perfect by any means. The story was a little slow at time, making it hard to go on. It didn't help that I HATE finishing series (I don't like closure), which made finishing ten times more difficult. And at times it seemed like the pacing was a little off, either too slow or too fast.
But, despite all of those things, I still loved the book to death and absolutely wish there was more, though I understand there isn't (RIP).
Ten out of ten would recommend.
Overall, I give the story 4 out of 5 stars.
I hope you all love it as much I as do and more.
Peace,
-Kit Cat.