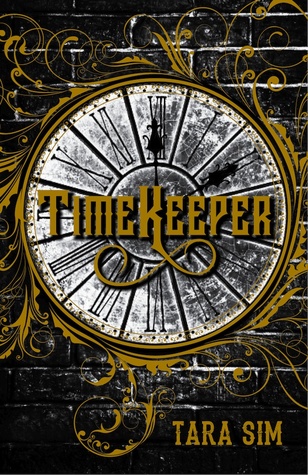 (Link to Timekeeper Goodreads HERE, links to pre-order it below)
(My review of this book is affected by no outside variables 😀 )
Out of all the books I grabbed and was anticipating at ALA, this one was the best, the highest. Every list I made, of books to grab, Timekeeper went on the very top, I kept studying the map to see where the Sky Horse Booth was,  I screamed when I found out Timekeeper would be there, it was quite the rollercoaster for me.
The day I had it in my hands, signed, personalized, I got to meet Tara and take a picture with her, was AMAZING! Seriously, I was so thrilled it isn't even funny. It was kind of embarrassing, to be honest.
Anyways, we left right after Sunday and I automatically hunkered down with Timekeeper as we began our drive, deeper into Florida. 
Don't worry. I wasn't disappointed by it.
Timekeeper was a good read. An easy read. Relaxing and kept my interest.
While I did enjoy the characters, I found the most interesting part of the story, for me, was the world-building of the book. 
The idea that actual clocks had power over time and formed timezones. That if a clock tower were to be tampered with the time would start acting out too. The idea that the only people who could fix the clocks when something went wrong were the Timekeepers, who felt a unique bond to the clocks and time.
Then there was the idea of clock spirits, which I loved. Someone, something, sitting in the tower, controlling time, is also affected when the clock is harmed in some way. They seemed so innocent and lonely, I just loved them, the idea of them and how it was executed.
The characters were fun to read about, not the most fascinating or unique, but were marvelously human, if that makes sense. 
They weren't perfect, all having their flaws, making incorrect assumptions, not thinking things through. Things that were irritable but also relatable.
The MC, Danny, was interesting enough, being a young, lonely mechanic, with really only one friend.
Or my sweet, smol cinnamon muffin who deserved the world and all the love and should be loved lots and protected at all costs, which Danny basically did, so Brownie Points for Danny.
Following the mystery and romance of it all was certainly entertaining and I feel genuinely curious to see where these books go.
I definitely see a lot of room for growth, in a lot of places. There are two more books after this, according to GoodReads and after finishing book one, I imaged two distinct ways the series could go, one I'm more hopeful for.
But who knows, maybe it'll shock me and take an alternative route that I don't see coming.
Overall, I did enjoy the book and would definitely recommend people to check it out. The Pre-order linkies will be below. 
3.5-4/5 stars 
(Yes I'm indecisive on this one, sue me). 
Pre-order Linkies: Barnes and Nobles, Amazon. 
Peace and Love,
Kit Cat.