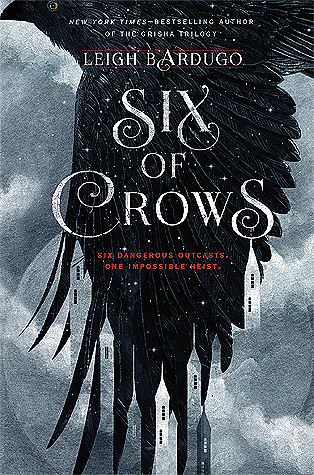 (Hey look GoodReads link to this book but if you have to look it up, what the fuck have you been doing, unacceptable).
(No, this review wasn't influenced by an outside variable).
I bought this book when it came out but that was mostly because of how pretty it was. All black stained edges and annoyingly sexy cover… My history with Bardugo's work (the Grisha Trilogy) wasn't all that great (I wasn't the biggest fan, 3 stars), so I wasn't jumping on Six of Crows.
Then someone called Book Sarah came along (named because there were 10000 Sarah's but this one liked books ) and said, "Hey, yeah, this book is pretty cool and there's no way I'm biased." So I gave it a shot. And Book Sarah was right.
She's good at that being right thing.
I did like this book. A lot. It was a shit ton of fun. Loads better than the original Grisha trilogy. Loads.
Oh, my gods, this book reeked of awesomeness, it was so fun and hooking within the first few chapters, I finished it in a wink because it felt like a sin to put it down.
Honestly, this book is like a whole different world from the Grisha Trilogy, really, unless you didn't like the Grisha aspect of the trilogy, this book doesn't touch the originals. It alludes to them, which I'm a fan of, but it isn't an extension if that makes sense.
Anywho!
To the story!
How do I review this book?
I liked it. The world was awesome. It was a low world, darker, full of secrets and mysteries and ooing and awing. A plus, it's full of questionable people, which is always fun.
Then there are the characters which I heard, before reading, were the best part of this book. Or, at least, people raved and raved about these marvelous characters and how wonderful they were.
And, yes, okay, they're great. I am a fan.
The only characters I had slight issues with were Matthias and Nina. For whatever reason, it always took me a bit to get into their chapters. Matthias more than Nina, I relate to Nina on a weird level.
One great thing that stood out to me was how the main characters interacted with each other. Call me what you may, but it seemed natural. Nothing ever seemed forced or out of place. It was easy to see, easy to follow and comprehend.
Like when you're having a conversation and it's interesting and easy to follow, opposed to one where you keep having to ask for clarification and keep losing interest.
That's essentially how I felt with the character interactions in Six of Crows. It was interesting, easy to follow, and had a purpose.
The story itself was interesting, I loved the whole heist, how intricate and well thought out the entirety of it was.
Like I said, there were a few times I found myself losing interest but they happened so sparingly, I only just remembered a few of them.
Overall I'd give this book 4 out of 5 stars. 
I am very excited about Crooked Kingdom, I actually look forward to reading it.
Peace!