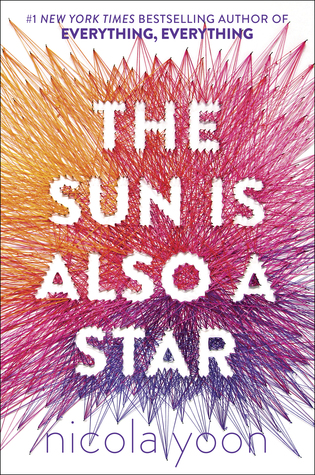 (The GoodReads Linkie is HERE!)
(This review was not affected by any outside variables). 
Last year Mama Cat (my mom) got her hands on a copy of Everything, Everything by Nicola Yoon and she was thrilled with it. So, at ALAAC, I made sure to snag her an ARC in case she wanted to test it out.
(She was there too, but she was also off exploring a good portion of our time there).
Despite being stingy about reading contemporary YA I decided to pick it up. Partially because of the pretty color, partially because of the promise of diversity, and an interesting story.
And it was pretty ok.
The first part of the story was a bit of a shock, the way it would explore boundaries outside the main two characters.
It was an interesting way to go, showing the lives of characters outside the main story, how they impacted the story, and how the MCs impacted those random characters lives.
The MCs were pretty great. Natasha being very cynical which I can relate to as a teenager and a high school student. Daniel being a dreamer, both quirky and funny, he definitely kept me interested in the story. He was just so cute, I wanted to give him a hug and snuggle him.
The story takes places throughout one day, which was very easy to forget just because of how much happens in that one day. The whole story feels like it's taking place through a year and it's easy to forget that what's happening between Daniel and Natasha is sudden.
The story does also deal with the stereotypes both Natasha and Daniel face because of their race, which was interesting to see. A lot of what they said reminded me of the TED talk Chimamanda Adichie did called "The Danger of a Single Story".
So, obviously, I don't have a lot to say about this book. I did enjoy it quite a bit and would definitely recommend. It is such a lovely story, very heartwarming and fun.
I'd say definitely check it out in November when it comes out. It is not a choice you will regret and, also, who can resist such a beautiful cover?
Nicola's writing is also something freaking marvelous, that you don't want to miss.
Overall, my rating is 3 out of 5 stars. 
Peace,
-Kit Cat