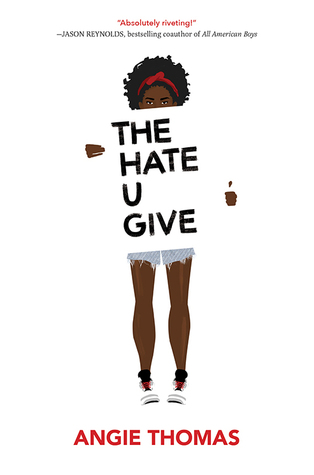 Title: The Hate U Give

Author: Angie Thomas

Release Date: 28th February 2016

Format: Physical ARC

Publisher: Blazar and Bray

Amazon – Barnes and Nobles – Books A Million – Book Depository

Synopsis taken from GoodReads:

Inspired by the Black Lives Matter movement, Angie Thomas's searing debut about an ordinary girl in extraordinary circumstances addresses issues of racism and police violence with intelligence, heart, and unflinching honesty.

Sixteen-year-old Starr Carter moves between two worlds: the poor neighborhood where she lives and the fancy suburban prep school she attends. The uneasy balance between these worlds is shattered when Starr witnesses the fatal shooting of her childhood best friend Khalil at the hands of a police officer. Khalil was unarmed.

Soon afterward, his death is a national headline. Some are calling him a thug, maybe even a drug dealer and a gangbanger. Protesters are taking to the streets in Khalil's name. Some cops and the local drug lord try to intimidate Starr and her family. What everyone wants to know is: what really went down that night? And the only person alive who can answer that is Starr.

But what Starr does—or does not—say could upend her community. It could also endanger her life.
No review I write will give this book justice, so let me start with a few words about it:
Awe-inspiring, inspirational, moving, eye-opening, heart-breaking, 100% current, life-changing, cute as fuck, emotional as hell, by far the best read of 2016, needs to be #1 priority for everyone as soon as they receive a copy, best book of 2017, most important book I've ever read.
Now, let's see if I can go on to the review without breaking down into a blubbering mess.
I love this book with all of my heart. I want it on my shelves, I want it on the shelves of others, I want it in the hands of young kids, I want it in the hands of old people, of all people.
When I say "this is a must read" I mean it.
Okay, I'll try and start with some of the easier stuff I noticed.
This book is 100% current, Angie Thomas could not have done better at putting down what life is like for teens. It's honestly like she is a teen because I've never seen such a spot on YA novel.
There are references to Tumblr and Twitter (which there never seems to be in YA novels?), references to Harry Potter, to current dances, to television, and of course, the current issues, like race (obviously, it's inspired by the Black Lives Matter movement).
I don't know about other kids my age but that's essentially my life and the lives of those I see around me. We all have our Twitters, our Tumblrs, which define us. Almost everyone I know watches reruns on television, we're up to date on the current dances, and a portion of us are more than well aware of the issues in this country.
Automatically, that makes the book more relatable for teenagers.
The Hate U Give never once shied away from the current issues, not that I'd expect it to. It hit the race issue full force and was honestly one of the hardest books I've ever read and I'm still immensely glad I read it.
It gave insight into struggles that I will never fully be able to understand.
It showed the apathetic brutality of others who don't understand the situation.
It showed and gave all of the emotions, all of the rage, the sadness, the hopelessness that comes with these situations and shit if you didn't think this was heart breaking before you sure as fuck will after you read this book.
Honestly, this book was wild. I went from laughing to crying in second, I don't think I've ever read a book this intently.
The characters are so amazing, they're interesting, they're dynamic, they're fun, they're relatable (legit, that Tumblr stuff resonated with me, not the race stuff, I'm white as mayo).
Starr's family is such a fun family to get to know, her friends, well I liked some better than others.
Also, I completely, full on, found three whole ships in this book and I will protect them with my life, those characters are my babies and they deserve all the happiness and justice and joy in the world.
What did I tell all of you? I am a mess! This book has turned me into a mess! Even with all the editing, lord help me, this is all I'll be talking about for the next few months, I'm done for.
Overall this book gets five damn stars and deserves more than that.
If you need me I'll be sobbing in the corner.