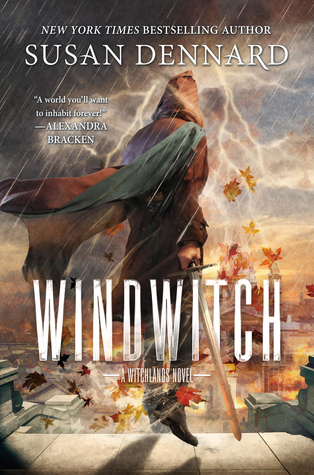 Title: Windwitch

Author: Susan Dennard

Format: Physical ARC

Pages:377

Release Date: 10 January 2017

Publisher: TorTeen

Rating: 4.5/5 Stars

Amazon – Book Depository – Barnes and Nobles – Books A Million

Synposis as reads on Amazon:

"Sometimes our enemies are also our only allies…

After an explosion destroys his ship, the world believes Prince Merik, Windwitch, is dead. Scarred yet alive, Merik is determined to prove his sister's treachery. Upon reaching the royal capital, crowded with refugees, he haunts the streets, fighting for the weak―which leads to whispers of a disfigured demigod, the Fury, who brings justice to the oppressed.

When the Bloodwitch Aeduan discovers a bounty on Iseult, he makes sure to be the first to find her―yet in a surprise twist, Iseult offers him a deal. She will return money stolen from him, if he locates Safi. Now they must work together to cross the Witchlands, while constantly wondering, who will betray whom first?

After a surprise attack and shipwreck, Safi and the Empress of Marstok barely escape with their lives. Alone in a land of pirates, every moment balances on a knife's edge―especially when the pirates' next move could unleash war upon the Witchlands."
Finally, I get to do a book review! I can't tell you all how much I've been longing to do one, my blog feels so dry without them.
It took me a bit to get into Windwitch, not because it was slow, but because I was very worried I wouldn't like it which happens with a majority of my anticipated reads. I never want to not like them and then I'm hesitant to read the book because what if I end up not liking it?
Well, that wasn't the case here. The case here is that I'm blown the fuck away by Windwitch, pun unintended, but pun appreciated.
Characters
Windwitch was stock full of AMAZING characters and it is going to take everything in me not to do a step by step breakdown of why I love them and a look into their character development through Windwitch, which I actually already did but deleted it.
Ultimately, I loved the characters and their growth. Even if I wasn't a fan in Windwitch, I am now full force, converted lover of that character.
Windwitch has some of the best character development I've ever seen, without going into to too much spoiler-y detail. Like, close to Avatar The Last Airbender level character development and I'm so psyched to see how my babies grow in the next few books.
It's very refreshing to read a book in which the characters are constantly growing and learning. These characters are so dynamic and evolved, always developing even in the littlest of ways. It can be seen that they are reacting to the world around them and changing to reflex that and the people they're with and it is so well done. 
The World
Find you map of the Witchlands because you are going to need it when you read this. I know I was looking at the map for a good portion of the book to ensure I knew where my precious characters were.
Windwitch goes deeper into the world of the Witchlands which is, again, why you'd need the map so often. It is a lot of fun, though, I do love fantasy books where they actually go to the other countries and kingdoms they talk about opposed to just sitting in their own.
It is nice to be introduced to new places, people, and creatures, while still keeping in touch with the places in the previous book, on the down-low.
If the books keep growing like this then I'm honestly going to need a guide book to keep everything straight (although a guide book is appreciated no matter what).
 The Story
(Like the world and characters, I'm going to try and keep this short, anything longer will result in me potentially spoiling the lot of you.)
The story was epic and if you loved Truthwitch, you will ADORE Windwitch and be a full on convert. I can't describe how much I loved the stories in Windwitch, how much fun and nerve-wracking all the action was, how heart-wrenching, concerning, thrilling everything was.
Every scene was just full of feeling and so amazing to read, I feel genuinely blessed to have gotten to read this book, and I'm kind of dying inside now that it's over.
Windwitch isn't just a fantasy with a lot of fantasy elements revolving around a clear fantasy plot. It repeatedly addresses issues that can be seen in the real world and is full of emotion, and messages of friendship and love and acceptance and understanding and so much more. None of which is hidden under layers of fantasy but put on full display with all of the fantastical elements. They manage to coexist without drowning the other out and just the right amount of both.
Meanwhile, there still are mysteries to revealed and epic messages to go along with them.
Overall
This story is just a big bowl of amazingness that totally blew me out of the water.
There is more to come with the future books and I cannot tell you all how psyched I am for the next book and I don't think that will go away any time soon.
It will take a whole lot of rereads to supplement the giant whole that has filled with the ending of Windwitch but I believe in myself to make it better.
---
If you haven't preordered your copy already I would HIGHLY suggest it, especially since you'll get an awesome pair of Windwitch socks, and a patch, and a signed book plate, just go to truthwitch.com and enter the information! Links to preorder above!
---