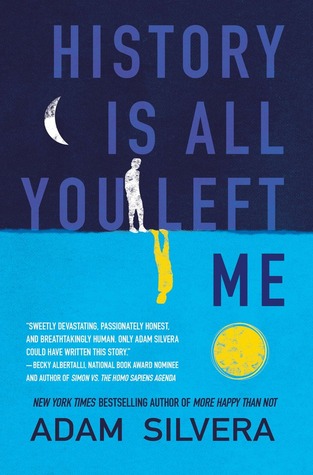 Title: History Is All You Left Me

Author: Adam Silvera

Format: Physical ARC

Pages:293

Release Date: 17 January 2017

Publisher: Soho Teen

Rating: 4 Stars

Amazon –Book Depository – Barnes and Nobles – Books A Million

Synposis as read on GoodReads:

"When Griffin's first love and ex-boyfriend, Theo, dies in a drowning accident, his universe implodes. Even though Theo had moved to California for college and started seeing Jackson, Griffin never doubted Theo would come back to him when the time was right. But now, the future he's been imagining for himself has gone far off course.

To make things worse, the only person who truly understands his heartache is Jackson. But no matter how much they open up to each other, Griffin's downward spiral continues. He's losing himself in his obsessive compulsions and destructive choices, and the secrets he's been keeping are tearing him apart.

If Griffin is ever to rebuild his future, he must first confront his history, every last heartbreaking piece in the puzzle of his life."
First of all, this was my first Adam Silvera book. I have More Happy Than Not but I have yet to read it and I might need to take a break from Silvera.
I was warned by my mom and heard through Twitter that Adam Silvera was a heart breaker but holy shit, I never imaged this.
Reading this book went way past the point of sad and straight to Pit Of Despair.
I can't recall if a book has ever made me feel like this before and I'm not sure if I ever want to feel it again.
That being said, I enjoyed it, there's no denying that, I nearly devoured the entire thing in one night. On top of that, I'm going to have to go with saying this is a definite Must Read but you Must Read it when you're in a good place in life, because OUCH, it stings.
I can't recall ever being more invested in characters that I only just met. From the first page, I'm mourning Theo and I don't even know the kid. I just feel awful for Griffin and he makes me love Theo and by default I love him too and just want him to feel happy and safe.
The story is written in parallel time lines, in which you see both Griffin's history with Theo and how he's coping with Theo's loss which just makes it ten times harder to read.
In one time line you're falling in love with those two dorks, in the other one, you're watching one of them suffer and it is painful.
From what I gathered the story is mostly about coping with grief, coming to terms with certain aspects of life that you may not agree with, and even first love. HISTORY also tackles mental illness, in this case, OCD, and how it goes along with grief and love.
The entire time reading it the reader is also pulled into feeling whatever Griffin is feeling, which is mostly sadness and anger, and it hurts, but it makes the book all the more life-like.
On top of feeling with the characters, you also feel for them as you get to know them through Griffin's eyes which changes as new things come to light throughout the book.
As much as it hurts it does also have its fun, silly, cute moments that you can't forget, and those all around just add to the pain but also provide some relief from it which I think speaks to the book's theme.
This story is an emotional rollercoaster and on one hand, I don't want to move on but instead dwell on what I just read and how it affects my views of the world as I know it. But, on the other hand, I have a whole bunch of January ARCs I still have to get through.
Luckily, I can multitask.
 If I were you, dear, kind reader of my blog, I would definitely pick this book up and read it because of the way it does portray love and loss and mental illness. History Is All You Left Me is a seriously painful, but necessary read,
History Is All You Left Me is a seriously painful, but necessary, interesting, and even cute read.
So, please, buy this book because it will definitely improve the quality of your life.