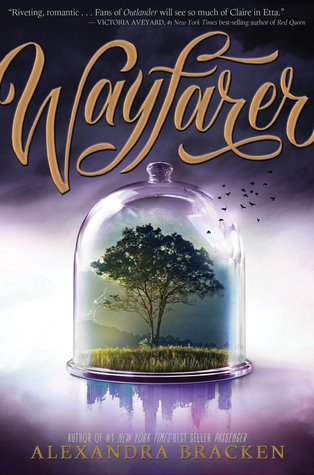 Title: Wayfarer

Author: Alexandra Bracken

Format: Physical ARC

Pages: 532

Release Date: 3rd January 2017

Publisher: Disney-Hyperion

Rating: 4 Stars

Amazon – Book Depository – Barnes and Nobles – Books A Million 

Synposis as posted by GoodReads:

"All Etta Spencer wanted was to make her violin debut when she was thrust into a treacherous world where the struggle for power could alter history. After losing the one thing that would have allowed her to protect the Timeline, and the one person worth fighting for, Etta awakens alone in an unknown place and time, exposed to the threat of the two groups who would rather see her dead than succeed. When help arrives, it comes from the last person Etta ever expected—Julian Ironwood, the Grand Master's heir who has long been presumed dead, and whose dangerous alliance with a man from Etta's past could put them both at risk.

Meanwhile, Nicholas and Sophia are racing through time in order to locate Etta and the missing astrolabe with Ironwood travelers hot on their trail. They cross paths with a mercenary-for-hire, a cheeky girl named Li Min who quickly develops a flirtation with Sophia. But as the three of them attempt to evade their pursuers, Nicholas soon realizes that one of his companions may have ulterior motives.

As Etta and Nicholas fight to make their way back to one another, from Imperial Russia to the Vatican catacombs, time is rapidly shifting and changing into something unrecognizable… and might just run out on both of them."
First book I finished of 2017 and my first review of 2017, so I think we're off to a good start.
 Reviewing it will be a little hard because I did just finish it today (around 12:30 AM) but I'd have to say it is amazing, beautiful, adventurous, and heartbreaking and I couldn't have loved it more.
Passenger was one of my favorite reads last year, between it and The Girl From Everywhere, I think I have a secret love for time travel books.
Wayfarer continues the adventures of my most lovable ship: Etta and Nicholas, though they're apart throughout this book.
They both go on different, but equally stressful journeys throughout the ages, Nicholas with what seems like many but messy goals in mind, and Etta just trying to survive and understand what is going on around her.
Along with them tags a rather fun group of characters that seriously added to the quality of the story, making it fun and witty, while Etta and Nicholas were equally suffering from their companions differing personalities. 
Despite his growth throughout the book, Nicholas does remain the same sweet, gentleman that he was in Passenger and I still want to propose to him. Etta, poor soul, is still relatively confused and trying to figure out the world around her, while also being the same calculating and smart girl we all know and love.
Sophia is also a character I adored in this book because she and Nicholas's personalities differ so much that it's fun to watch them travel together and if there were more stories about them traveling together, I'd read them. Same goes for Etta and her companion.
The story itself was amazing, I almost enjoyed it a little more than I did in Passenger. They definitely visited more places in this book than in Passenger, probably because Etta and Nicholas weren't together but it still followed both of them.
The sites themselves weren't as visited visually but historically. In Passenger, there was a lot of imagery, from what I remember, where Etta and Nicholas would take in the world around them, whereas in Wayfarer it was more action. Like, there's currently a war going on, these people look like it, and not much in the way of visual scenery and the like.
That being said, I did enjoy having the action there, it kept the story constantly moving and made it easier to keep reading the book without losing focus.
The story focused a lot on family and the idea that things are not always what they seem, not just in the form of family but in the form of people we thought we knew, more than what we perceived. It book held one revelation about a person after another and while one would think it would get annoying, it just added to the story and went to remind readers that there are multiple layers to all people.
Overall, I really enjoyed this book, and am very grateful that I got the time to sit down and read it. If you all have the time and money to invest into this book I'd highly suggest it, Wayfarer is a fun and action-packed read, everything you need in your life, a great read to start 2017 with!
Happy New Year and Happy Reading!