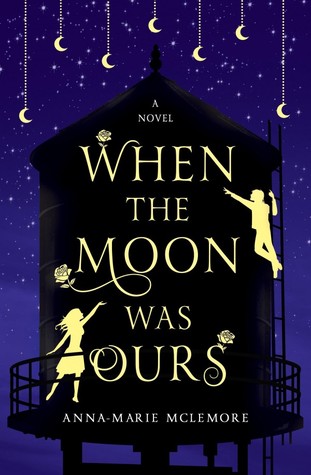 Title: When The Moon Was Ours

Author: Anna-Marie McLemore

Format: First Addition US Hardback

Pages: 288

Release Date: 4th of October, 2016

Publisher: Thomas Dunne Books

Stance: Stand alone

Status: Completed

Rating: 4 Stars

Amazon – Book Depository – Books A Million – Barnes and Noble

Synposis (GoodReads):

"To everyone who knows them, best friends Miel and Sam are as strange as they are inseparable. Roses grow out of Miel's wrist, and rumors say that she spilled out of a water tower when she was five. Sam is known for the moons he paints and hangs in the trees, and for how little anyone knows about his life before he and his mother moved to town. But as odd as everyone considers Miel and Sam, even they stay away from the Bonner girls, four beautiful sisters rumored to be witches. Now they want the roses that grow from Miel's skin, convinced that their scent can make anyone fall in love. And they're willing to use every secret Miel has fought to protect to make sure she gives them up."
To me, the perfect word to describe this book is surreal. When The Moon Was Ours was my first magic realism book
When The Moon Was Ours was my first magic realism book and it was really something. Reading is like falling into a warm, blurry dream where you know things aren't right but you're too encapsulated, too awed to completely realize it or even care.
This book isn't even three hundred pages but it accomplished more in those few pages than most books manage in serious.
In a matter of pages, every character had drawn me in. They were all well thought out, unique, differing from their fellows in the smallest ways yet all the ways that mattered. Characters that generally wouldn't get more development than a cup of water got some.
By giving every character that special something to set them apart from others before them just made all the difference. It wasn't a bunch of stereotypes but all these special, beautifully written people. 
By the end of the book, they are definitely more than characters.
Of course, to go along with these characters is an amazing story, one that's hard to describe.
It's so normal with all these strange, small elements that make you wonder, think, and imagine beautiful things.
Like I said, hard to describe.
This book is surreal, an all too short song, lyrical, like a dream, beautiful like the night sky.
Honestly, I'm awed. If you're on the fence about this book I would suggest picking it up.
The only complaints I have was that it was a little slow for me at times but honestly I'm in such a warped state because of school and stress that I don't think it was the book as much as me.
Overall, I'm in love and will always have fond memories of this book. Already, I'm flipping through it just to get a dose of the beauty that is this book.
High Recommend.