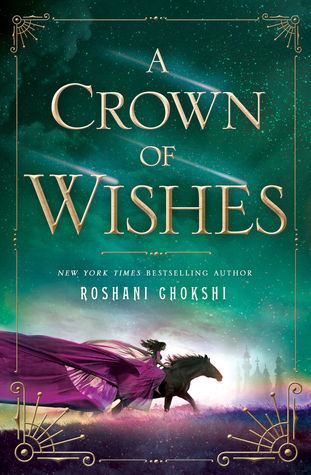 Title: A Crown of Wishes

Author: Roshani Chokshi

Format: Physical ARC from YALLFest 2016

Pages: 367

Release Date: 28 March 2017

Publisher: St. Martin's Griffin

Stance: Stand Alone/Spinoff

Status: Finished

Rating: 5 Stars

Amazon – Book Depository – Books A Million – Barnes and Noble

Synopsis by GR:

"Gauri, the princess of Bharata, has been taken as a prisoner of war by her kingdom's enemies. Faced with a future of exile and scorn, Gauri has nothing left to lose. Hope unexpectedly comes in the form of Vikram, the cunning prince of a neighboring land and her sworn enemy kingdom. Unsatisfied with becoming a mere puppet king, Vikram offers Gauri a chance to win back her kingdom in exchange for her battle prowess. Together, they'll have to set aside their differences and team up to win the Tournament of Wishes—a competition held in a mythical city where the Lord of Wealth promises a wish to the victor.

Reaching the tournament is just the beginning. Once they arrive, danger takes on new shapes: poisonous courtesans and mischievous story birds, a feast of fears and twisted fairy revels.

Every which way they turn new trials will test their wit and strength. But what Gauri and Vikram will soon discover is that there's nothing more dangerous than what they most desire."
Honestly, this book is just such a blessing it is so good and I will try to go into why this book is as amazing as it is but I make no promises of making sense.
I would like to start by saying if you liked The Star-Touched Queen you will like this because this is that and so much more and I'm not going to lie, I thought it would be difficult for Ms. Roshani Chokshi to outdo herself, yet here I sit, in awe, of that book.
The book is honestly such a wild ride from start to finish, I mean you're automatically thrown into this marvelously thrilling adventure that's so full of hurt and love it will physically make you ache. 
That's one of the things I love so much about this book (and Roshani's other book) is that the story is so full of life it could be its own character. It has emotions and feelings, it grows and learns with the characters. It's so adventurous and vivid in its details. It's well paced so that you're neither falling asleep nor out of breath.
It's an honest to god page turner, once you pick it up it is nearly impossible to put it down because you're a part of the story, invested in it like it's a drug.
On top of all of that there's the world building, oh my god, the world building will never cease to amaze me. If I could pick any place to go live, it would be the worlds crafted in The Star-Touched Queen and A Crown of Wishes because they are so bright and magical.
I think this one is mostly rooted in Indian mythology and it is literally the greatest experience ever.
Both the human world and the otherworld are painted these massive, elaborate places that are full of mystery and wonder. You can never tell what you're going to be handed in these worlds. There's always an equal chance you were going to get a dream, a nightmare, or something too surreal to be either of the others. 
Thinking of the world in that story is like thinking of both a mental happy place and the adventure of a lifetime, with a little mix of nightmare in it to make it realistic to the senses.
Now, let's talk about the prized jewel of ALL of that book: Gauri and Vikram because holy shit I have not loved two character and their dynamics since Zuzana and Mik from Daughter of Smoke and Bone.
They are the ultimate hate-to-not-hate relationship. Their banter is the best banter of all times, 80% of y sticky notes in that book consist of Vikram and Gauri banter because they are the most perfect asshats ever.
Plus they work so well for one another like you have Gauri who's physically strong and battle smart and Vikram who, well, he's the Fox Prince which I feel like sums him up nicely. And they're both emotionally closed off but bring out the best in one another with time and growing and learning which is my FAVORITE THING!
THEY ARE A FUCKING DREAM TEAM! BLESS THEM!
To go along with those two cuties there are also awesome friendships like Vikram and Gauri are friends (begrudgingly) but they have and make other friends, it isn't just a smooch fest or anything, they have other people they care about and it's amazing because there needs to be more friendships in YA, okay?
This book is the embodiment of perfection and I dare any book after it to live up to that status of greatness. I don't think it can. Unless Roshani manages to outdo herself but honestly I can't imagine that?
The level of greatness this book embodies is the kind that spawns films, television shows, great soundtracks, great fanart, amazing dreams, and a massive fanbase. That is what this book deserves, no less!
I'm not even kidding, if you haven't gotten this book yet, DO IT, it will be one of the best books you've ever bought, a great investment.
10/10 would recommend.
True art. Should be a freaking classic like Lord of the Rings or one of those other fantasy classics.
This is the level of writing I aspire too. This amount of magic and beauty is what I want in my life.
Perfection.
That's all for now friends, but please, please, please, please BUY THIS BOOK and read it because it is PERFECT!