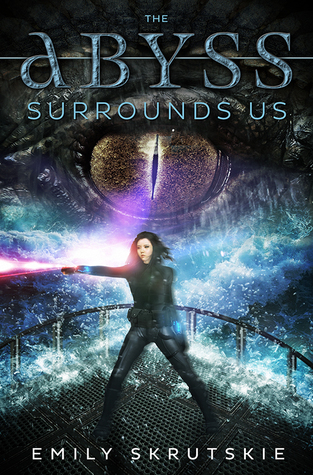 Title:The Abyss Surrounds Us

Author:Emily Skrutskie

Format:First Addition Paperback

Pages:273

Publisher:Flux

Stance:1/2

Status:Finished

Rating:4 Stars

Amazon – Barnes and Nobles – Books A Million – Book Depository

Synopsis by GR

"For Cassandra Leung, bossing around sea monsters is just the family business. She's been a Reckoner trainer-in-training ever since she could walk, raising the genetically-engineered beasts to defend ships as they cross the pirate-infested NeoPacific. But when the pirate queen Santa Elena swoops in on Cas's first solo mission and snatches her from the bloodstained decks, Cas's dream of being a full-time trainer seems dead in the water.

There's no time to mourn. Waiting for her on the pirate ship is an unhatched Reckoner pup. Santa Elena wants to take back the seas with a monster of her own, and she needs a proper trainer to do it. She orders Cas to raise the pup, make sure he imprints on her ship, and, when the time comes, teach him to fight for the pirates. If Cas fails, her blood will be the next to paint the sea.

But Cas has fought pirates her entire life. And she's not about to stop."
This book is fucking crack, I shit you not. Everything I have ever wanted in a book, everything I could ever want in a book. It is like the perfect sci-fi, adventure, futuristic book.
I should've read it sooner.
It was one of my most anticipated releases last year but it took me forever to acquire, then a few of the other debuts I was excited for failed me and I became nervous.
Those nerves stayed with me but were quickly destroyed by just how amazing this book is.
For a short book, it sure does a shit ton.
First off, we have the world, which is just a futuristic Earth, dealing with changes in its environment, including massive fucking sea monsters.
Yes, MASSIVE FUCKING SEA MONSTERS who are actually just big ass babies in need of some love and cuddles.
This world is so easy to slide into because it's the world we're used to just with more science, more monsters, and more pirates. Plus, most of the book is spent on a ship so it isn't actually too hard to keep track of everything which is perfect for focusing on the story and its characters!
For the characters: I fucking love them. Even the ones who are like "bad guys" are fucking brilliant because they aren't just bad people waiting for a chance to be senselessly bad and annoying they're real and lively and brilliant.
Cas is like the perfect fucking protagonist, an outstanding first-person narrator. Thanks to her we understand the world better without her just vomiting up what it's like.
She's relatable in the way she thinks and rationalizes her decision. She adapts quickly to her situation, she thinks things through but still feels things, like an actual person- wow, what a concept, a character who's realistic!!- she's just brilliant and smart and I LOVE HER SO MUCH!
Then there's Swift who's actually just a smol honey bun full of angst and girl love with I LOVE! Headstrong and ready to take anyone on, she's just a lovable, if mildly terrifying, character!
AND SANTA ELENA! I love that women, I love her with all my heart. She is cool and calculating, knows what she wants, knows what everyone else wants, knows how to get shit done, a no-bullshit woman, and she could rule the world if she wanted.
Plus the side characters who just ❤ (freaking Varma, man).
Finally, there's the actual story, dealing with the delicate balance their world has created by creating these monsters and what happens when that balance is threatened, along with the narrative of having to see the other side of the story when you didn't think about it.
These are the two biggest things throughout the story and they exist flawlessly together. They provide for epic action sequences and a lot of serious emotions and revelation in the story.
It managed to keep me hooked until the last, epic page, which is when I became a thousand times more grateful that I already had the sequel.
It's genuinely a remarkable book, full of action and adventure and love, something that can keep your attention until the final page because it never slows down. The only good stopping points are the end of the chapters or the end of the book because it's so addicting.
When you're not involved with the characters and their lives, your involved in the monster's, or the action, or this grand adventure, or terror and worry of the current situation, or the romance, or pure wonder at whatever is coming next.
This book is honestly one of the most underrated books I've ever read and I truly cannot believe that more people haven't read it.
It's one of those books I didn't even know I need until I read it yet I knew I wanted it.
I love sci-fi, monsters, f/f relationships, pirates, and this book had all of that neatly wrapped into an epic story.
If you haven't read this book yet, I strongly suggest you do! It's amazing and you'll never read anything better.
Keep an eye out for the review of the sequel, coming soon!