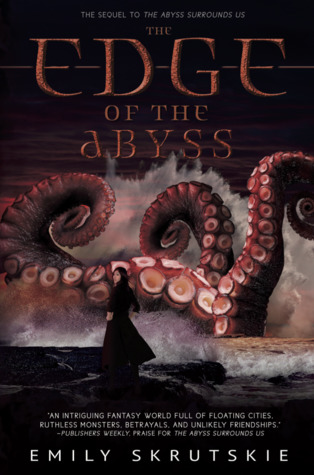 Title: The Edge of the Abyss

Author: Emily Skrutskie

Format: Physical ARC from ALAMW17

Pages: 291

Publisher: Flux

Stance: 2/2

Status: Finished

Rating: 5 Stars

Amazon – Barnes and Nobles – Books A Million – Book Depository 

Synposis by GR:

"Three weeks have passed since Cassandra Leung pledged her allegiance to the ruthless pirate-queen Santa Elena and set free Bao, the sea monster Reckoner she'd been forced to train. The days as a pirate trainee are long and grueling, but it's not the physical pain that Cas dreads most. It's being forced to work with Swift, the pirate girl who broke her heart.

But Cas has even bigger problems when she discovers that Bao is not the only monster swimming free. Other Reckoners illegally sold to pirates have escaped their captors and are taking the NeoPacific by storm, attacking ships at random and ruining the ocean ecosystem. As a Reckoner trainer, Cas might be the only one who can stop them. But how can she take up arms against creatures she used to care for and protect?

Will Cas embrace the murky morals that life as a pirate brings or perish in the dark waters of the NeoPacific?"
I can barely breath, after the end of TASU I was so worried for what would come next but holy shit was that hardcore and epic to the damn max. Not to mention it was even better than the first!
If you take the action, adventure, stakes, amazing characters, story and double the awesome you have The Edge of the Abyss!
Before I go into this, please know that the wound this book left me with is still fresh and there will probably be a lot of fangirling (like the last book's review!) so sit tight and prepare for spoiler free reviewing/fangirling.
So the world didn't change much since the last book (it's still the world we all know, love, and are moderately concerned for) SO I'M GOING RIGHT TO CHARACTERS!
Did you love them before? Well, they all got better AND THERE'S MORE OF THEM MOST IMPORTANTLY VARMA because if ever there was a character who deserved the world it would be him.
Okay, so we have Cas, Cas, beautiful daughter of monsters, is ten times more hardcore and full of beautiful discourse and angst. But make no mistake she's still calculating Cas, she's still brutal and epic and freaking metal, I love my girl to no end.
Swift, also full of angst, god bless, I feel like we're almost the same person… But Swift is also Swift but new Swift and I love new Swift because she's ready to go and fight everyone. And she's just such a little nugget but at the same time so ready to beat everyone up and doing wild things for the people she loves and I love her.
Let's also talk Santa Elena because she is by far one of the coolest fucking characters I have ever encountered. I'm trying to think of someone to compare her too that'll do her justice but no she's just fucking Santa Elena, hardcore, cold as fuck and human.
That's something I really liked about this book she's like extra human in this one, not just the cold calculating captain that we all knew and loved in the first one. Like, I mean, she's still pretty cold and calculating but we get to see more of her WHICH I ADORED!!!
And then there's the three kind of new characters but also not because they were in the first book: Varma, Chuck, and precious Lemon. My favorite of the three is Varma because he is funny and kind and a Hufflepuff, which no one (except maybe Emily) can convince me otherwise.
Chuck is Chuck and both funny while being ready to fight you (in many different forms) all at once.
Lemon is quiet and you actually don't see much of her during the book but when you do it's like twenty times better.
As for the actual story, to some it up I would say "holy shit" and I could picture everything so vividly it fucking hurt.
It was honestly like watching a movie, it was so graceful and intense, overall consuming every part of you.
The Edge of the Abyss honestly took this book to a whole new level of action, adventure, intensity, romance, family, it was genuinely everything shoved into a sequel of a book about a futuristic Earth with sea monsters and pirates.
I cannot fathom how someone wouldn't enjoy the sequel especially if they enjoy The Abyss Surrounds Us.
The stakes are growing higher, there are more characters to love, there' more shit going on and going down.
Brilliant, intense, action packed to the max, full of marvelous, unique characters that you'll love and love to hate in some cases.
This book was brilliant, both of these books are brilliant.
I'm aware I might have not done a great job but honestly this book is so amazing that words escape me. If anyone were on the fence about reading The Edge of the Abyss or both the first and the sequel, I would say there's no better book to read right now.
Especially, if you're a sci-fi fan. These books are so underrated, again, I just can't believe more people haven't read these!
If you haven't checked these books out yet, DO SO! You won't regret it, I promise, I swear on my pathetic life! They're amazing and full of everything a person could want!
From this moment on, I swear my life and eyes to Emily Skrutskie, I will read anything she writes.
That being said, I'll close out the review here before the word vomit goes on any longer.
Check back soon for more posts and reviews (but while you're waiting READ THESE BOOKS)!