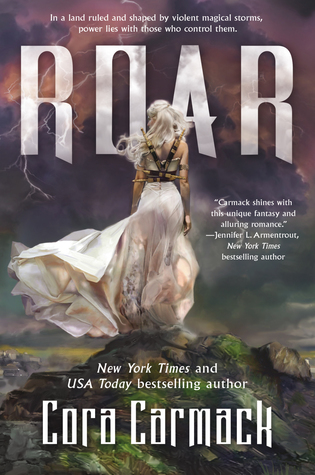 Title: Roar

Author: Cora Carmack

Format: Physical ARC ALAMW17

Pages: Good Question?

Rating:DNF

Stance: 1st in a Series?

Status: DNF

Synposis by GR:

"In a land ruled and shaped by violent magical storms, power lies with those who control them.

Aurora Pavan comes from one of the oldest Stormling families in existence. Long ago, the ungifted pledged fealty and service to her family in exchange for safe haven, and a kingdom was carved out from the wildlands and sustained by magic capable of repelling the world's deadliest foes. As the sole heir of Pavan, Aurora's been groomed to be the perfect queen. She's intelligent and brave and honorable. But she's yet to show any trace of the magic she'll need to protect her people.

To keep her secret and save her crown, Aurora's mother arranges for her to marry a dark and brooding Stormling prince from another kingdom. At first, the prince seems like the perfect solution to all her problems. He'll guarantee her spot as the next queen and be the champion her people need to remain safe. But the more secrets Aurora uncovers about him, the more a future with him frightens her. When she dons a disguise and sneaks out of the palace one night to spy on him, she stumbles upon a black market dealing in the very thing she lacks—storm magic. And the people selling it? They're not Stormlings. They're storm hunters.

Legend says that her ancestors first gained their magic by facing a storm and stealing part of its essence. And when a handsome young storm hunter reveals he was born without magic, but possesses it now, Aurora realizes there's a third option for her future besides ruin or marriage.

She might not have magic now, but she can steal it if she's brave enough.

Challenge a tempest. Survive it. And you become its master."
Okay… So I actually started off liking this book. I stopped reading it because of my weird thing of being unable to read ARCs after they're released.
But then someone else started reading this book and they were like "this book is shitty, here's why" and posted evidence and I was like shit, they're right, how did I miss this?
Here is Aentee's review from Read At Midnight.
This review is going to be very short because Aentee already covered everything I thought after seeing her evidence and it was her evidence that made me decide to not go back to this book- at least not until I'm in a mindset to realize that the behavior is toxic.
Heck, she even covered the race thing. I remember starting out reading it thinking there might be something wrong with the way race was portrayed but I dismissed it like everything else (I am not reliable) and guess I should've listened to my gut because yup… It did shitty things with race too.
Okay, so here are my shallow thoughts (again, Aentee covered EVERYTHING I now feel about this book so READ HER REVIEW!!).
I initially thought this book was good but not groundbreaking. It was one of those reads you picked up because you're bored and it's what you have on your shelf. It just felt like classic fantasy with its characters and the bare storyline.
The book's best quality was its world building. That's genuinely a world you could get sucked into, a world that would've been fun to explore if it'd had the characters to match. Even the actual plot would've been fine if the character's had lived up to the story line and, oh yeah, not have been so fucking awful.
To be honest, the book actually had hooked me. Again, not in any groundbreaking awesomeness but in a simple "this is an okay book" way. I was curious to see how it would end.
But honestly, I'm so genuinely upset that I didn't see or acknowledge any of the red flags. I feel like some part of me knew that what was happening wasn't right but then I would dismiss it for the little things like the world or liking the one side character, Nova.
There's one part where Locke kisses Roar without her consent and she says something like "You didn't ask permission" and I was like "yes!" but… That's it. That's the one redeemable thing she does because as you can see from Aentee's review the rest is shit.
So, I also didn't leave the links to go buy this book. I don't think people should buy this book. There are more respectable books to buy than this one.
No matter how intrigued I initially felt that's all been drowned out by how unforgivably rape-y this book is.
Will I ever go back to it? Probably not because the only way I could physically continue reading it is if I bought a finished copy, which I don't plan on doing, or was in a state of mind that allowed me to actively realize the book's flaws. I think since I didn't notice them at first I can't trust myself to continue on reading that and perpetuating the already toxic views of males I have in my brain.
So, DNF from me and on to better things.
Also, I have not finished a lot of books before, the only difference is I stopped because of the release date (like I initially did with this) and I have full intentions of getting a finished copy and finishing it. 
That's all for today, check back later for more content and reviews of actually okay books!