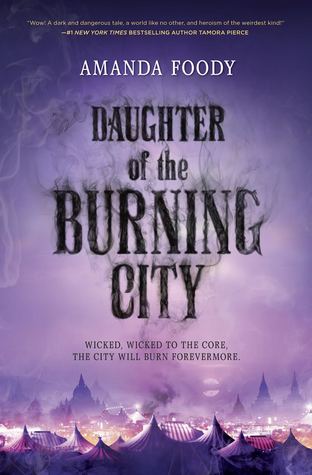 Title:Daughter of the Burning City

Author:Amanda Foody

Publisher:Harlequin Teen

Format: Physical ARC

Pages:384

Stance:Standalone ?

Status:Stopped at Page 85

Amazon – Barnes and Nobles – Books A Million – Book Depository

Synopsis by GoodReads:

"Sixteen-year-old Sorina has spent most of her life within the smoldering borders of the Gomorrah Festival. Yet even among the many unusual members of the traveling circus-city, Sorina stands apart as the only illusion-worker born in hundreds of years. This rare talent allows her to create illusions that others can see, feel and touch, with personalities all their own. Her creations are her family, and together they make up the cast of the Festival's Freak Show.

But no matter how lifelike they may seem, her illusions are still just that—illusions, and not truly real. Or so she always believed…until one of them is murdered.

Desperate to protect her family, Sorina must track down the culprit and determine how they killed a person who doesn't actually exist. Her search for answers leads her to the self-proclaimed gossip-worker Luca, and their investigation sends them through a haze of political turmoil and forbidden romance, and into the most sinister corners of the Festival. But as the killer continues murdering Sorina's illusions one by one, she must unravel the horrifying truth before all of her loved ones disappear."
The odds were not in favor of this book and I say this mournfully. In general, books about carnivals, festivals, and the like don't seem to be my cup of tea but the phenomenon is so new (to me at least) that I want to check it out and see if it's me or just the books I've tried out in the past.
While the who carnival/festival thing didn't appeal to me there were two aspects that did: 1. a friend enjoyed it. In hindsight, I shouldn't have let that be a factor because my track record of my enjoying books recommended to me is bland. 2. I've met the author, she was lovely. I know authors aren't always what they seem but when an author is nice to me I feel ten times more inclined to read their books.
So, what happened to make me stop reading at page 85? Well, a few things, but essentially the stars did not align.
To do with the actual book, I wasn't a fan of the writing. I felt like the characters were characters I could actually get behind but too much was being asked of me too fast. It was so early in the book and I was still getting comfortable with everything but reading felt like I was being asked to care deeply for these characters I'd just met.
Depending on the book, that bond might not take long, I mean, I've read books where after the first page I was like "omg, I'll die for you" but this was not that book for me. I also think part of that had to do with the narrator. I wasn't a fan of her but again, I think it was more of the way she was written than anything else. Again, it was a case of I felt like I was being asked to care too much for a character I'd just met. Plus, she kept coming off as rude and selfish and in my eyes, I didn't see much of anything relatable or empathetic in her.
To me, she read as indifferent illusions/her family, only caring for one person, who's an actual person. Even after the first murder she still felt detached from them. I couldn't fathom how I was supposed to care about her loss when she didn't seem to care about the ones still "living". There was just no bond between them that I could feel other than one of creator and creation. It just didn't feel believable.
Going along with this, there were some outside factors, the biggest of one was the LI (love interest). I'd heard they were demisexual and while on hiatus I heard that there were whispers of the demi rep being not that great. (Plus, I'd thought the author was allo, and while I'm not sure, I realize I don't know so that can't necessarily be a deciding factor. I foolishly have gotten used to people wearing their orientations on their sleeves, therefore have begun, wrongly, assuming people are allocishet. My folly).
At first, that, and how soon the book was being released, urged me to pick it up. But it soon slowed me down. As someone who often times feels insecure and uncomfortable with my own orientations I didn't want my already unstable foundation to be rocked by seeing myself in a light I was uncomfortable with.
Since stopping the books, for this reason, I've learned that what seemed to be the issue was after a few weeks of knowing one another they become intimate but again, I didn't read far enough along to know 1. how long they knew one another, 2. how long after they begin a sort of bond this occurs.
The only thing I can really say is, every demi person is different.
Personally, I'm glad I didn't read it just because of my own experience. For me, it takes up to YEARS for me to feel an emotional bond/comfortable with anyone romantically, much less sexually.
The other thing with that is, he's said to be demisexual, not demiromantic, which means he could feel comfortable with kissing and cuddling, and non-sexual romantic things.
Again, I don't know, I didn't read that far, I was bored, in Florida (I can't read books in Florida, I don't like them if I do), and really worried about the rep.
So, overall with that, each demi person's experiences are different. How quickly or slowly we form an emotional bond comes down to the individual. And demisexual and demiromantic aren't the same thing and can exist separately from each other.
There are a lot of factors that could play into that and I'll reiterate again, having not read far enough to know, and not caring about the book as of right now, I can't speak for the rep. I can only ask that if you read this in the future you keep in mind: 1. Demiromantic and demisexual aren't the same things, they can exist separately from one another. 2. How quickly a demisexual person can form a bond comes down to the person. 3. We don't necessarily need a bond to have sex.
It is literally each, individual experience.
The other outside factor was the publisher, which sounds shitty, but HarlequinTeen has been having so many issues that I died a little inside when I saw who this book is being published by. Obviously, that doesn't change the quality of the book itself, it just freaked me out and added to my already uneasy feelings.
That's all on that for now.
Other than that, the formatting and the premise are AMAZING. I really enjoyed the idea that illusions could somehow be killed and I won't lie, I'm a little curious as to how this would turn out. Plus, I did like how the festival was laid out like an actual city, that was pretty neat.
Similarly, the way the book was looking to be formatted was awesome, so cool and unique.
So, if this sounds like your thing, I would TOTALLY suggest checking it out. It really did look like it had promise and maybe, in the really distant future, I might pick it up again. Foody seems to have enough promise in her writing that I might pick up her later books.
Alas, for this one, the stars did not align, and I couldn't do it.
That's all for this review, check back later for more bookish content and reviews (I'm currently reading Nyxia, 27 Hours, and Zenith), and as always, thank you for reading.