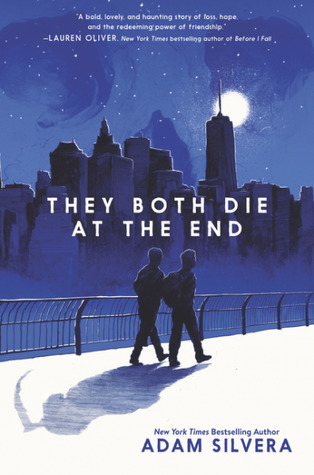 Title:They Both Die At The End

Author:Adam Silvera

Publisher:HarperTeen

Release Date:September 5, 2017

Pages:384

Stance:Stand Alone

Status:Finished

Amazon – Barnes and Nobles – Books A Million – Book Depository

Synopsis by GoodReads:

"On September 5, a little after midnight, Death-Cast calls Mateo Torrez and Rufus Emeterio to give them some bad news: They're going to die today. Mateo and Rufus are total strangers, but, for different reasons, they're both looking to make a new friend on their End Day. The good news: There's an app for that. It's called the Last Friend, and through it, Rufus and Mateo are about to meet up for one last great adventure and to live a lifetime in a single day."
I cried for three fucking hours after finishing this book that's my fucking review goodbye.
Obviously, I'm kidding, but seriously, I was in bed sobbing for a very long time.
I don't even know where to start with this book because it fucking wrecked me, like crumpled me up like a piece of paper and just spit me out I mean who the fuck authorized this shit?
Why can't Adam just let me live, I mean is he okay? Writing all of this severely depressing shit that has me up at 1 A.M. having a fucking existential crisis? I haven't even read More Happy Than Not but I heard that's going to fuck me up to so whatever I GUESS.
Look, in all seriousness (which it is immensely hard to maintain when I feel like sobbing my damn eyes out) this book was beautiful.
For a… I don't know, I don't want to say contemporary so realistic fiction wise it has one of my FAVORITE formatting set ups. If you read The Sun Is Also A Star, it's like that. So, it has two first person narratives and then will have little third person narratives along the way and it is SO FUCKING COOL I absolutely adore those kinds of set ups. Because then not only do I get to see through Rufus and Mateo's eyes I get to see them from the views of others and how they affect others and just how close things are tied and related and it is honestly such a blessing.
And the story is just so damn pure? I mean Rufus and Mateo's friendship is so damn beautiful and helping one another live their lives to the fullest? The complete understanding of one another, the complete break down of the best and worst parts of humanity? I mean there is just something so pure about watching those boys accepting and helping one another.
I mean the entire concept of this book is just so vivid and, despite what's happening, lively.
I can't begin to tell you the feeling of happiness I started getting out of this book. And I know, happiness? From Adam Silvera? But it's true. Watching people living entire lives in a single day, learning to trust and love and have fun in a single damn day literally did so much for me.
It was like suddenly things that have been freaking me out for weeks wasn't as scary anymore because if two fictional characters could look death in the eyes and live in spite of that then I can live my life with days and days ahead of me.
The way those two boys connected and thrived off one another makes the idea of meeting new people all the more better. The way they just go out and fucking live life as epically as possible made going out into the world a lot less scary than it was a few days ago because I get to live.
This book presents and makes you feel like living is such a damn gift and that you need to take it for all it's worth and do something absolutely amazing with it.
They Both Die At The End is a book that'll have you up at 3 am sobbing because you love the characters so much and can't accept their fate but also be thinking about what you can do to improve your life and expand on your experiences.
All and all, I can not recommend this book more to you all. It is such a phenomenal read and sure it has some slow moments but hot fucking damn it is an AMAZING book.
So much quality content, such a unique and unforgettable premise, such a page turner.
Do yourself a favor and pick this baby up.
That's all for this review, check back later for more content and thank you SO MUCH for reading this review!